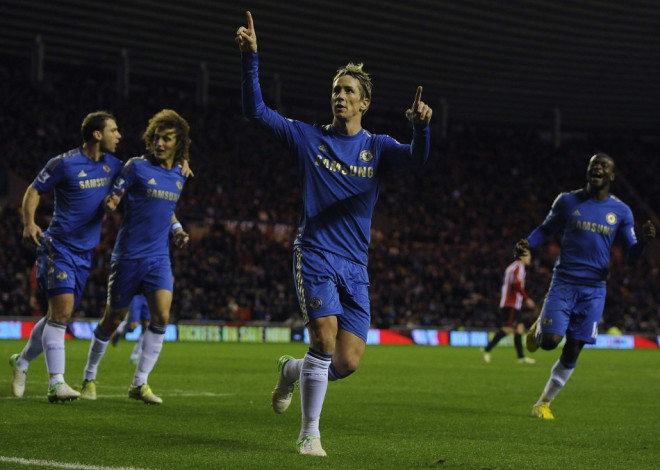 Chelsea's Fernando Torres has no future at Stamford Bridge and is likely to leave the club in the summer transfer window, according to former Blues star Ray Wilkins.
The Spanish striker, who has struggled since his £50m move from Liverpool in 2011, has been limited to just 14 Premier League starts this season as his boss Jose Mourinho has usually preferred to use Samuel Eto'o ahead of him.
Torres failed to make an impact after being introduced as a second-half substitute in the 3-1 Champions League defeat at Paris Saint-Germain.
In an interview with talkSport, former Chelsea star Ray Wilkins claimed the 30-year-old's career at Stamford Bridge is over, saying:
"Torres has no future at Chelsea. I think he has seen his time out there.
"He moved from a Liverpool side where he was so successful as an individual to Chelsea, where the style of play is so different.
"He needs the space in behind people in which to run. He needs to make those runs though. He needs to make the players find him.
"Sometimes it is down to the individual. He needs to try and make something happen," he told the Alan Brazil Sports Breakfast show.
It is well known that Blues boss Jose Mourinho has lost faith with Torres as the Portuguese has repeatedly said that Chelsea's main goal is to sign a 'nine' next season – he is actively looking for new strikers to strengthen his squad in the summer and Atletico Madrid's Diego Costa and Monaco's Radamel Falcao are his main targets. So it appears he would welcome the opportunity to move Torres on.
Also with Romelu Lukaku returning from a loan spell at Everton, El Nino's first-team chances are likely to soon be non-existent.
The Spaniard, who was one of the world's most prolific strikers at Atletico Madrid and Liverpool, has scored only four goals this season.