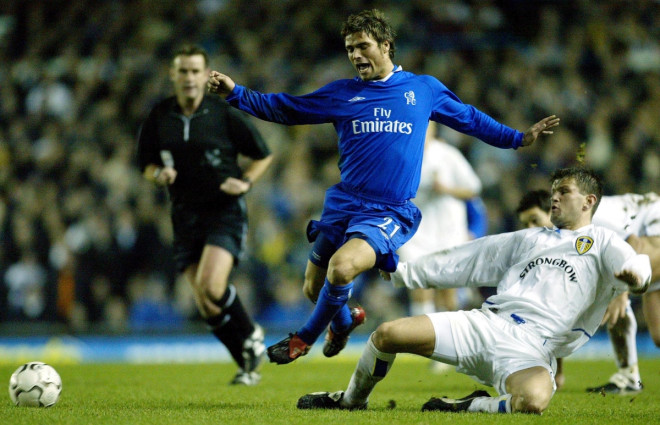 Chelsea's former Spanish midfielder Quique De Lucas has told IBTimes UK that Diego Costa will be the perfect striker for Jose Mourino, with reports in Spain claiming that the Atletico Madrid striker is set to join the Blues in the summer.
De Lucas spent the 2002-2003 season at Stamford Bridge under Claudio Ranieri, just before Roman Abramovich bought the club.
The Spaniard, who is currently playing at Hercules in Spain's second division, told IBTimes UK about the Champions League semi-final between his old club and Atletico Madrid, his time at Chelsea and Costa's possible move to Stamford Bridge next season.
"I think Diego Costa will fit like a hand in a glove with Mourinho's style. He is quick, hard worker and also a top scorer. These players are the ones that Mourinho likes," De Lucas said.
"Chelsea already have quality strikers in the squad but their figures are not enough. I think Torres should have scored more goals."
Asked whether he would use Torres or Eto'o to beat Atletico in the second leg of the Champions League semi-final, De Lucas said:
"I would play with two strikers up front, with both Eto'o and Torres, with a 4-4-2 system. But I think Mourinho will use Eto'o."
When questioned about Mourinho's style and Chelsea's chances of reaching the final, De Lucas said: "Nobody can say that Mourinho has lied to anyone.
"He has never changed his way of being and playing. His teams have always performed well. You can like his style more or less but you cannot question his work.
"I believe that Mourinho always thinks that the tie is 180 minutes, so in the first 90 he decided to play like that [parking the bus]. He didn't want Atletico to score and he wanted to wait for his chance.
"I am sure that the first half at Stamford Bridge will be equal to the one at the Vicente Calderon. Maybe Mourinho will take more risks in the second half. When he was at Real Madrid he was not allowed to play that way because Madrid is different but in London he can do it."
De Lucas declined to suggest who is the favourite, but admits that Chelsea's weak attack could be crucial.
"It will be a very close game. I think that even Atletico players are surprised by the level they are performing. Costa is in great form, and also Raul Garcia. They defend with eleven players and it is very difficult to score against them because they have a great keeper and a very good defence.
"But it will be very tight because Chelsea also defends well. Maybe Chelsea are weaker in the front but the full-backs can make the difference in a game like that."
Furthermore, he heaped praise on Courtois, claiming that he is ready to battle with Cech for the number one spot at Chelsea next season.
"I think Courtois is already above Cech, at least he is ready to fight with him for the number one at Chelsea. I also really like Cech but Courtois is great. The Premier League will benefit considerably if he returns. He is especially amazing on the aerial balls."