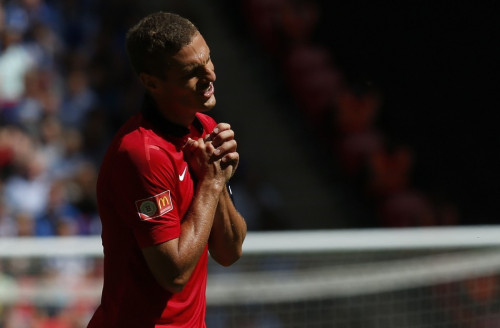 Former Chelsea striker Mateja Kezman claims Nemanja Vidic is happy at Manchester United and admitted that his ex-Serbian teammate will do his best to continue at Old Trafford beyond this season.
The 32-year-old has seen his appearances being restricted in the last few seasons, with injury keeping him out on the sidelines. Vidic has seen his performance drop over the years, but still has been a key man in United's back four over the years.
Vidic's contract at Old Trafford runs down in the summer and is yet to sign an extension with the Premier League champions. Earlier reports suggested that the Serbian defender has agreed a pre-contract to leave United after the end of the season, with Barcelona and Galatasaray reportedly being interested in his services.
However, the defender's agent Silvano Martina has denied to have contact with the Catalan club or the Turkish champions, but ruled out a possibility of contract extension with the English champions.
Kezman claims that Vidic loves the club and their fans and is ready to sign a new deal to extend his stay at Old Trafford.
"He's not unhappy. He's been there for years and would like to stay for another season. He loves the club, the city, the fans, everybody. I'm sure he will do his best to stay at United if they offer him a contract," Kezman told talkSPORT.
"Nemanja Vidic is top and player and big friend of mine. I spoke to him a few months ago and he said then that he was waiting to see what will happen with his contract," he added.
Meanwhile, the former Atletico Madrid and Paris Saint-Germain man has urged David Moyes to retain the Serbian as he believes the presence of Vidic in the dressing room will be beneficial for the young players to settle down quickly in the first team.
"I would give him a new contract. It's true he's not the player he was a few years ago, he's a bit injury-prone, but he's still a leader. Man United need him in the dressing room, around the young players," the former Chelsea striker stressed.