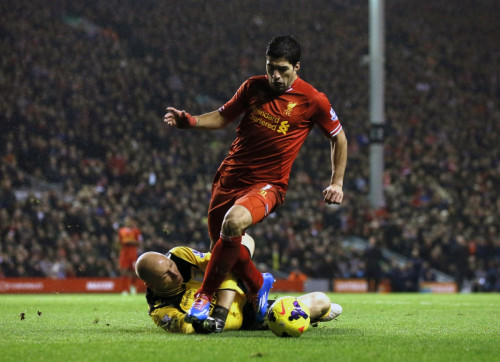 Ex-Liverpool midfielder Jamie Redknapp says the debate regarding the decision to award Luis Suarez a penalty against Aston Villa highlights how football could do without video replays to assist referees.
Referee Jon Moss awarded the Reds a second half penalty after Villa's Brad Guzan was adjudged to have fouled Suarez after the Uruguayan rounded the onrushing 'keeper.
Replays following the decision have proved inconclusive and have led to accusations that Suarez dived to win the spot kick for Liverpool and Redknapp says the incident accentuates how difficult re-officiating decisions can be.
"If we needed more proof that a fifth official and video replays won't work in football, it came this weekend," Redknapp told The Daily Mail. "The Luis Suarez penalty debate has raged on with plenty of disagreement.
"People say a fifth official would solve the problem. Good luck. How can they be expected to make the correct decision each time when people can't even agree?
"I was in the TV studio on Saturday with Stiliyan Petrov, who is Aston Villa through and through. We both thought it was a penalty. If Brad Guzan does not come rushing out, there is no penalty but a lot of people will disagree.
"If calls like this went upstairs, you would end up waiting around and any decision would still be questioned.
"Goal-line technology has been fantastic. But debates are part of the reason we love football and with incidents like this, it proves they are a matter of opinion, not fact."
This is far from the first diving controversy to involve Suarez during his Liverpool career and once again highlights how the 26 year old has the capacity to thrill and divide opinion in equal measure.
Villa stopper Guzan has claimed that Suarez "didn't know" whether there was contract between the two players.
"I was pretty confident in myself that I hadn't touched him so I said to him 'did I touch you?' He said 'I don't know.' That's the honest truth of it," the American said of the Liverpool striker.
"Sometimes they go for you and sometimes they don't. Unfortunately, for us it didn't. I thought at the time that I'd pulled my hands back and, having seen it again on TV, I don't think I made contact with him.
"Whether the referee saw that I'm not sure, I don't know where his position was, but from my point of view it was a soft penalty.
"I think Suarez was probably a bit surprised as well to see it given. But these decisions happen and you have to get on with it and go again."
Suarez has scored 22 Premier League goals this season and is the front-runner for both the golden boot and a host of Player of the Year awards while also spearheading Liverpool's attempts to qualify for the Champions League.