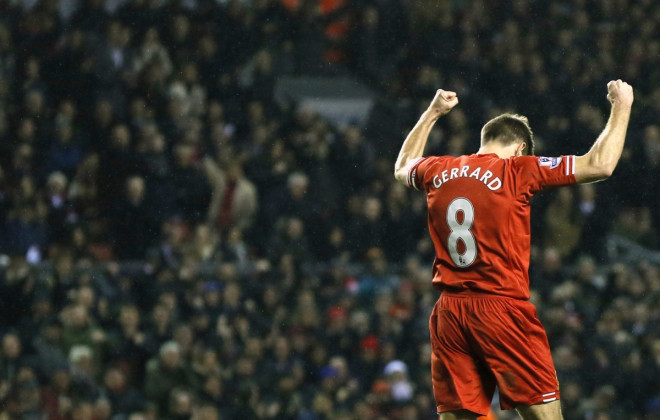 Former Liverpool star Terry McDermott says that Steven Gerrard is Brendan Rodgers' key man and the best midfield player Anfield has ever seen.
Gerrard has received lavish praise this season after his successful adaptation to a new deeper role, playing behind the creative midfielders.
The Anfield veteran has scored 13 goals this campaign and in Sunday's 2-1 victory over West Ham he netted two penalties to lead his side to the top of the Premier League table.
McDermott, who was a fulcrum of the Liverpool team of the 1970s and early 1980s, believes that Gerrard has already surpassed his old teammate Graeme Souness as the best Liverpool midfielder ever.
"I've gone on record as saying Steven Gerrard is the best midfield player Liverpool have ever had," McDermott told Liverpool's official website.
"I know my mate Graeme Souness would probably give me a rollicking for not saying him, and he was a fantastic player for this club, but Steven has everything."
McDermott says that Gerrard is currently even more important than Luis Suarez and expressed his confidence in Liverpool's chances of winning the Premier League.
"I really do think Liverpool can challenge, but they've got to keep everyone fit; the likes of Luis Suarez and Daniel Sturridge - but the key man for me is Gerrard."
After his latest brace against West Ham, Gerrard surpassed the goalscoring achievements of another Liverpool legend, Kenny Dalglish, with 173 goals in 663 appearances, rising to sixth on the club's all-time goalscorers list.
"Gerrard is in the same sentence for me as Kenny Dalglish and Kevin Keegan. He is Mr Liverpool and I love watching him play" McDermott said.
"He is wholehearted, he gives everything for the red shirt every game and he can do everything. In fact I can't think of anything he can't do and I wouldn't be surprised if he's very good in goal as well."