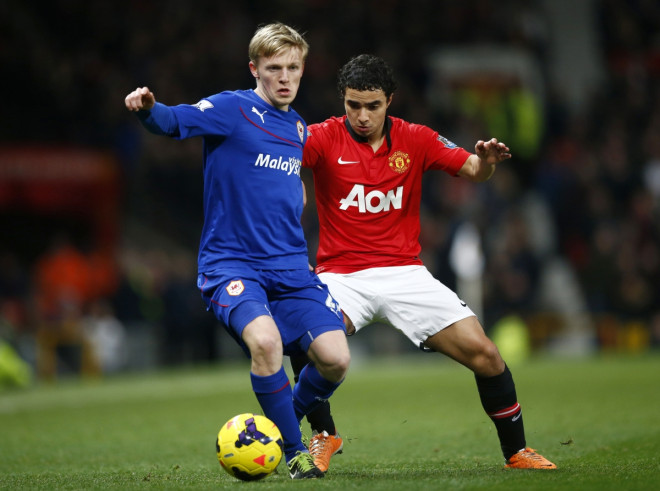 Former Manchester United starlet Mats Daelhi does not regret his decision choose Cardiff City over a return to Old Trafford.
The 19-year-old was regarded as one of United's most promising young talents as he progressed through their youth ranks before leaving the club to link up with Ole Gunnar Solskjaer at Molde last summer.
Following a stint in Norway Solskjaer, who compared Daelhi's abilities to those of United's Adnan Januzaj, brought the attacking midfielder with him to Cardiff City upon being appointed Malky Mackay's successor in January.
Daelhi was held in such high regard at Old Trafford that the club included a buy back clause that gave them first refusal on the player in any future transfers. Solskjaer revealed that clause was activated by United after Cardiff's bid was accepted by Molde in January, but Daelhi opted to continue working under the guidance of the United legend, and maintains he made the right decision.
"I went to Manchester United as a 15-year-old and it was my dream to play for them," Daelhi was quoted as saying by Sky Sports. "But I know the Cardiff manager so well and wanted to play for him again.
"It felt safe to choose Ole. He knows me and what I stand for as a player. I was sure that he would give me the chance and he did. So I believe that I did the right choice."
Daelhi, who joined Cardiff along with another former United midfielder in Magnus Eikrem in January, has yet to start a game for the relegation threatened club in the league, but has made seven appearance from the bench. Although his introduction has been limited, Solskjaer envisages a bright future for the young Norwegian, likening him to some of the Premier League's outstanding creative forces.
"I don't wish to compare him to others and he doesn't need any extra pressure, but he is the type of player who likes to get between defensive lines, take people on and create opening," Solskjaer said upon Daelhi's arrival at the Cardiff City Stadium in earlier this year.
"When you look at the Nasris, Silvas and that type of player, you look at Mats and think he could end up as similar in his style."