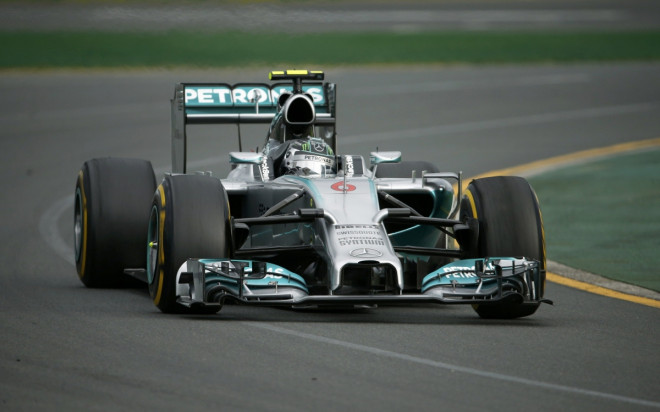 Mercedes driver Nico Rosberg comfortably won the 2014 Australian Grand Prix at Melbourne's Albert Park on Sunday. The German maintained his lead from the early part of the race and had no trouble in holding the race till the chequered flag.
Lewis Hamilton, who took pole after impressing during Friday's practice and qualifying was forced to retire after facing technical difficulties with misfiring cylinders. The defending champion and Red Bull driver Sebastian Vettel also retired with less than five laps.
With a new set of technical changes introduced for this season's Formula 1, few of the drivers were clearly struggling even before the start of the race. There were two parade laps before the start of the race.
As the green lights came on at Albert Park, Caterham's Kamui Kobayashi collided with William's Felipe Massa in the first turn. The collision forced both to crash out of the race, which left the Brazilian frustrated. Kobayashi admitted his fault and later issued an apology to Massa.
With Vettel and Hamilton out of the race, Rosberg took the lead and maintained it throughout the race. The German driver was followed by Australia's Daniel Ricciardo and debutante Kevin Magnussen of McLaren was pushing for the podium finish.
Ricciardo was successful in maintaining his place throughout the race as the Danish driver kept pushing him all through the race, However, the Red Bull's only car on the track managed to hold his position for 57 laps.
The Australian finished the race in the second place behind Rosberg while Magnussen made it to the podium on his debut. The McLaren driver became the first Danish driver to make it to the podium.
Jenson Button was fourth while Ferrari's Fernando Alonso finished the Australian Grand Prix fifth. The Spaniard's teammate Kimi Raikkonen managed to finish in ninth spot.
To Know About the Next Race, Click Here to Check Formula 1 Calendar.