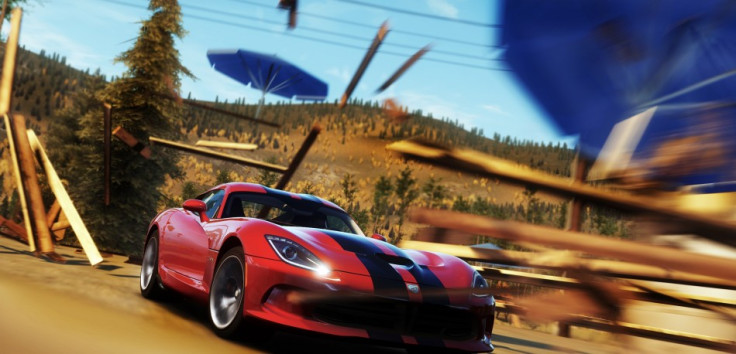 Key Details:
Developers: Playground Games/Turn 10 Studios

Publisher: Microsoft Studios

Platform: Xbox 360

Release date: 23 October

Price: TBC
Forza Horizon
Racing sims like are normally a doddle to preview: Sleek graphics? Yep. Cool physics? Sure. Huge roster of cars? Check aaaand check. If the engines purr, the chassis shine and the suspension bounces, you can pretty much count it a good racing game; all that's going to change in the later stages is that the opponents get harder and the cars get faster, right?
Mostly, yeah, but Forza Horizon is no normal racing game. Sure it's open-world, but that's been done before - Burnout: Paradise and Fuel both let players drive to and from any race they wanted. The physics, the graphics and all that usual stuff is familiar, too; anyone familiar with Forza 4's glimmering car models and weighty handling will recognise what's under Horizon's bonnet.
But you've never felt tension like this in a racing game - in any game even.
Loud, quick and dangerous
Forza Horizon is loud, quick and dangerous, a nifty combination of Project Gotham's gearheaderry and Burnout's chaos. The Showcase events are the best thing we've seen so far; bombastic offshoots from the main racing tournament, these are Horizon's party tricks.
The one we played was called Mustang v Mustang, and had us breakneck-speeding along windy mountain roads, trying to keep up with a fighter plane. There was no clear advantage: Our Ford had the smaller turn circle, obviously, but when it came to straight drags we were completely out-horse powered.
With The Hives blasting out the subwoofers, and the clock-ticking, our first Showcase event was one of the best things we've played this year; it was like The Fast and the Furious meets North by Northwest, as we fought to keep our eyes on the road while scanning the skyline for the arch-Mustang. We loved every minute, right down to the photo-finish.
Horizon takes place in a condensed, revved-up Colorado, with dozens of different landscapes and locations pushed together to cater for individual race specs. You can head to mountains and the forests if you want to try out some rally tournaments, or scope the local towns at night looking for illegal street races.
The standard track stuff is easy to find, too; just pull up alongside an entrance booth on the side of the road, hit X and you're in. There are no cumbersome screens and menus; it's just you, a map and hundreds of races to go to.
And you won't be starved for company between events, either; thanks to the six-hours plus of licensed music Playground have packed in, cruising from race to race is a joy in of itself. There are tracks from The Chemical Brothers, The Maccabees, New Order, Dizzee Rascal and Skillrex - exactly the kind of eclectic line-up you'd expect from Rob Da Bank, the DJ and Bestival organiser serving as Horizon's soundtrack adviser.
Sunday driving is a great way to experience Horizon's three radio stations, but when you get off the starting bloc and the dubstep flares up, Forza's music comes into its own.
The festival vibe is very intentional; although Forza doesn't have a story as such, there's certainly a framework. You play as an unnamed driver competing in the "Horizon" festival, a kind of Glastonbury come Gum Ball 3000 racing jam held in the Rocky Mountains.
You're there to unseat reigning champion Darius Flynt - as well as some lesser rivals - all the while breathing in the festival culture via supporting characters and radio DJs. During the day, "Horizon" (which doubles as a hub where you upgrade cars, buy new ones and check out online scoreboards) is quiet and empty.
But at night, the lights come on and the crowd packs in; the fairground rides and fireworks look gorgeous from a distance. It's by no means a living, breathing narrative, but the festival backdrop adds a welcome layer to the normally robotic racing genre; EA first experimented with this way back in SSX 3, but Playground have pulled it off for real.
This is normally the part of the preview where we start listing concerns, but after two-hours hands-on with Forza Horizon, it's hard to think of any - it looks very, very good. Sleek graphics? Yep. Cool physics? Sure. Huge roster of cars? Check, check aaaaaaand check. But Forza Horizon is so much more; we can't wait for 23 October.