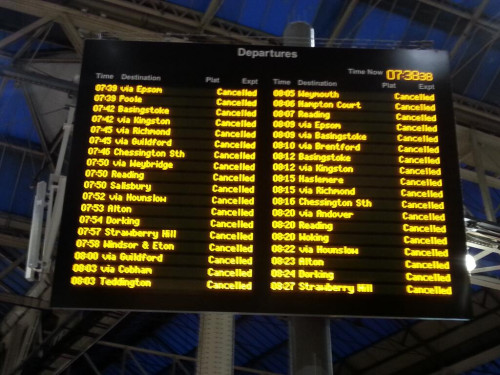 Fierce storms with winds of up to 92mph battered the UK overnight, disrupting rail, road, sea and air journeys for thousands going away for Christmas.
The storms claimed three lives on Monday. In Shropshire, a woman died when her car crashed at 9.30 pm. In Ambleside, Cumbria, a 48-year old man drowned after he tried to rescue his dog from a river swollen by rain. In Gwynedd, Wales, a woman also drowned after falling into a river.
On Sunday, a man died in a car accident caused by a hailstorm.
Devon and Cornwall Police confirmed that a fifth person, a 46-year-old man, died in the storms after he went into a fast-flowing river to rescue his dog earlier today (Christmas Eve).
The Met Office has warned of further storms in the north, northwest, Northern Ireland and Scotland tonight, with temperatures then dropping and the wind decreasing on Christmas Day and Boxing Day.
Flood warnings are in place across swathes of the UK. In the southwest, the Environment Agency issued a severe flood warning in Lodmoor, Weymouth, and firefighters rescued 25 after a torrential downpour.
"The public are advised to stay up to date with the latest Met Office forecasts and National Severe Weather Warnings and find out what to do in severe weather so they can plan ahead and be prepared for the weather in store," said chief forecaster Andy Page.
In Dorset, fire crews rescued 25 people trapped in their cars overnight as motorists were buffeted with gales and rain.
Power supplies to more than 100,000 homes in southern England have also been affected.
There is widespread disruption on rail routes, as companies struggle to clear lines of fallen trees, branches and other debris.
• Southern services are "limited" with many suspended because of "extreme disruption" to the network."
• South West Trains says that it is also running a limited service for most of the morning.
• East Coast trains is planning to run its Christmas Eve timetable, as published
• Virgin says it expects delays and disruption to its services
• First Great Western services may be affected as a result of Monday's disruption
• Arriva Trains Wales says that on a number of its routes buses are replacing trains.
• The Gatwick Express was forced to close, but has now re-opened a service on a number of its routes.
Most train operators have relaxed their rules, allowing customers to travel on any service.
Robin Gisby, managing director of network operations at Network Rail said: "We've had engineers out throughout the night dealing with the impact of the storm, clearing trees and debris.
"In the South the impact of the storm has been greater than that of St Jude's a few weeks ago and the railway has suffered flooding and dozens of trees have fallen on the tracks."
Gatwick has warned that some flights are likely to be diverted, while at Heathrow there are delays. Passengers are urged to check the details of their flight before setting off.
In Dover, some travellers were forced to spend a night in their cars as ferry services were suspended, though these have now reopened.