FPV Drone Racing League World Championships coming in June – here's all you need to know
The DRL Allianz World Championship will bring professional drone racing to 75 countries in June 2017.
Drone fans, rejoice! The Drone Racing League (DRL) has announced that it will be launching a series of world championship races dedicated to professional First Person View (FPV) drone racing in June, and the events will be televised and broadcast around the world.
Join IBTimes UK as we give you the low down on FPV drone racing and what the DRL Allianz World Championship will entail, as well as how to catch the tournaments no matter where in the world you're located.
---
What is FPV drone racing?
---
First Person View (FPV) drone racing is a sport whereby competitors race tiny quadcopter drones at speeds of over 90mph (150km/h) in large arenas. As the drones are so small and lightweight, it is difficult to see the drones with your own eyes, so competitors have to wear goggles featuring a video feed from the camera mounted at the front of the drone.
To win the race, competitors need to guide their drone through a complicated three-dimensional obstacle course as quickly as possible and make it back to the finish line first. Sometimes, just making it through the course is hard enough, as if you crash, the drone is incapacitated, and must be repaired or replaced before it can be used again. Since drone races can be over in as little as minutes, steering the drone and managing not to crash is crucial.
While modern consumer drones typically weigh under 2kg (4.4lbs), FPV racing drones can weigh as little as 68g, with drone frames measuring as little as 130mm and on-board cameras weighing as little as 1g. FPV drone racing started out as a niche hobby, so enthusiasts have been used to building their own racing drones from DIY kits ordered online over the last few years, although you can now buy them ready made too.
---
How will the DRL Allianz World Championship work?
---
In 2016, the Drone Racing League – currently the only global professional drone racing organisation – was set up, and the inaugural season of world championship tournaments were held at sporting stadiums in the US, including Florida, Miami, Los Angeles and Ohio.
The competition features 16 competitors that have been chosen by qualifying for the league and are ranked as the top players in the world. These players will go head-to-head in six races that will be broadcast as 12 one-hour-long episodes.
The tournaments were only available to watch in the US, Canada and the Caribbean on ESPN, as well as Sky Sports and ProSieben in the UK and Germany, but 30 million broadcast viewers tuned in, and there were over 43 millions views online on Twitch and other streaming sites.
This year, the Drone Racing League has signed a multi-year, global partnership with Allianz, which means that the 2017 World Championship will be broadcast in over 75 countries, and the six races will now take place in London, Munich, Boston, Atlanta, New Orleans and Miami, starting with the first tournament at Alexandra Palace in London on 13 June.
---
How can I watch the drone racing championships?
---
The 2017 DRL Allianz World Championship will begin airing around the world in June on these channels:
UK and Italy –Sky Sports
Germany, Austria and Switzerland – ProSieben
North and South America – ESPN, ESPN2, TSN, Disney XD and ESPN Deportes
---
Where will the UK portion of the tournament be held?
---
The finale of the tournament will be held at Alexandra Palace in London on 13 June, however sadly this year only the media is invited to attend as spectators. Drone racing fans will need to watch the tournament streaming on Twitch and other services.
---
Can I still enter the 2017 drone championship?
---
Unfortunately no, because the 2017 roster of competitors has already been chosen. However, you can download this simulator and test your skills to try to qualify for the league, and later this year there will be an opportunity for new pilots to try out for the 2018 roster, so keep an eye on the DRL website.
---
What drones will the competitors use?
---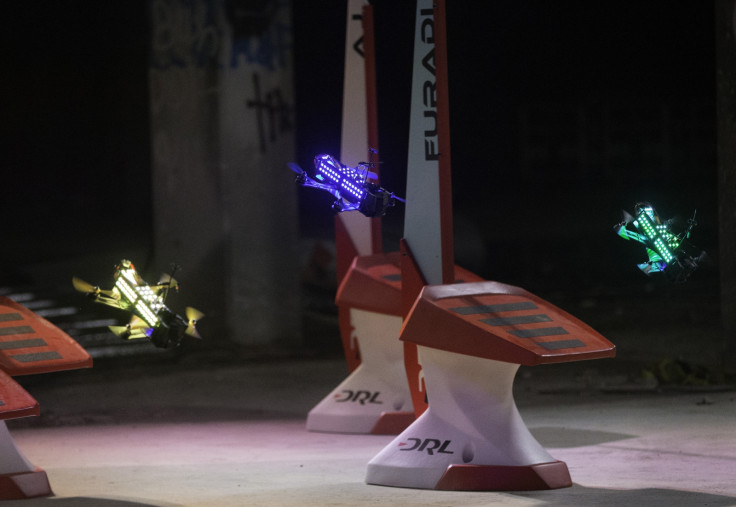 To ensure that all the competitors have a fair chance, no one will be allowed to bring their own racing drone. Instead, the Drone Racing League has developed its own custom drone – the DRL Racer 2. A fleet of 350 identical drones have been built in-house by the league's team of engineers and drone experts.
The DRL Racer 2 weighs 800g and features a 255mm carbon fibre frame, a single PCB containing all components, a Rotorgeek 20A electronic speed controller and four Cobra 2204 2,300kv motors to generate 3.3kg of thrust.
The drone also features an integrated HD camera mount, 5x4.5BN HQ Propellers and hundreds of ultra-bright colour-changing LEDs to help with visibility and pilot identification.
---
What are the prizes like?
---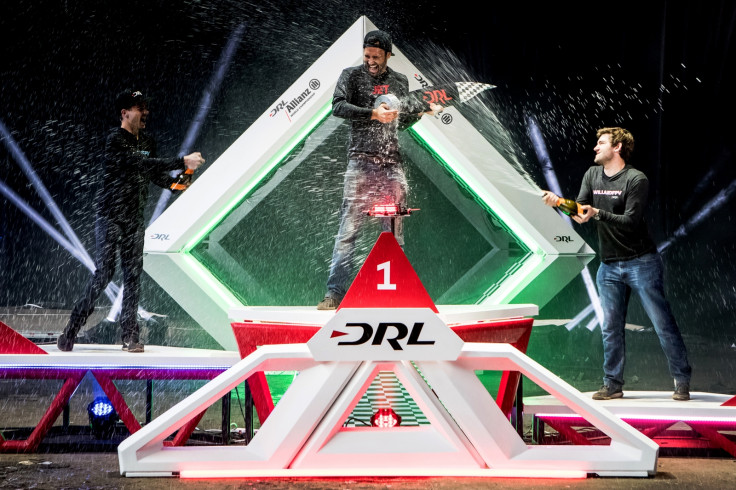 DRL has not announced how much the prize fund will be, but there will be cash prizes, and the 2017 World Champion will win a six-figure contract to compete again in the 2018 DRL championship season.
All 16 competitors who are chosen by DRL as part of the sporting league receive compensation for racing, and to give you an idea, in 2016, DRL held an eSports competition to chose a pro pilot to join the league, and the prize jackpot was $75,000 (£60,000). In contrast, the World Drone Prix held in Dubai in March 2016 had a top cash prize of $250,000, which was won by 15-year-old drone racing pilot Luke Bannister.
However, DRL says the World Drone Prix was a one-off competition – from now on, the DRL World Championship will be the only global professional racing league tournaments.
---
Where can I find out more about FPV drone racing?
---
If you're keen to get into FPV drone racing yourself, it would be a good idea to check out our feature which features an interview with Brett Collis, a Loughborough University student who placed third in the Drone Nationals 2015, the first official annual drone championship set up by the UK FPV League.
You can also get to know World Drone Prix winner Luke Bannister in our piece on major technology players Qualcomm and EE getting involved in drone racing to provide the drone memory chips and mobile bandwidth to make the sport possible.
PCWorld also has a good piece with tips for beginner drone racing pilots.
© Copyright IBTimes 2023. All rights reserved.