Give Blood NHS, which urgently needs more black donors, has hit back after accusations of racism.
In an epic Twitter thread, which has since been liked more than 11,000 times, England's blood donation service explained the need for donors of different races.
NHS Blood and Transplant previously launched an urgent appeal for 40,000 more black blood donors.
Currently, only 1% of people who give blood in England are black, they said.
But some online users had criticised Give Blood NHS's phrasing as they posted on Twitter that "black donors are urgently needed".
The thread, posted on November 7 and packed with gifs featuring Ellen DeGeneres, The Office and The Hunger Games, started sassy before getting more serious.
It began: "So, people keep asking - why do we need more black blood donors? Isn't everyone's blood the same? You're racist!
"Do black people have 'special' blood? Are we being racist? Is race a social construct? Let's break it down."
Black people are 10 times more likely to have a rare blood subgroup called Ro than white people, Give Blood explained, adding that "everyone's blood IS NOT the same, so you can stop calling us racist".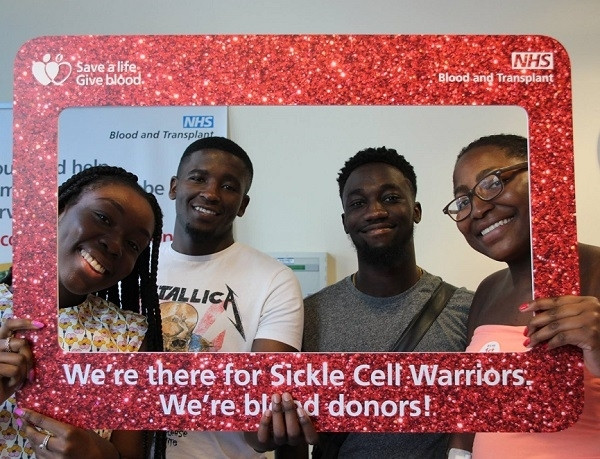 Many of those with sickle cell disease, a life threatening genetic condition which is more common in black people, have Ro blood.
"People with sickle cell disease develop sickle-shaped blood cells that can't circulate around their body," the thread explained.
"They are at risk of stroke, serious infections, and very painful crisis episodes. Serious stuff.
"Many people with sickle cell disease need regular blood transfusions of healthy blood to stay alive.
"If you keep getting transfusions, and blood is not very well matched, your body will develop resistance to the transfusions.
"That means we need more Ro blood to help the growing number of patients with sickle cell disease."
Why not just say more Ro blood donors are needed, instead of making it a race issue? There's an easy answer for that too, the thread continued.
"Well, most people don't know they have Ro blood, unless they donate and we tell them.
"It just doesn't work if we say we need Ro donors, because then you'll say, What the heck is Ro?!
"However people generally know if they are white, Asian or black.
"And black people are much more likely to have the Ro subgroup.
"So if you are black, hospital patients NEED YOU to help save their lives because we just don't have enough black donors."
However, it was emphasised that donors of all races are needed – and the thread also reminded people of an important perk, that you get free biscuits and tea after donating.
The Twitter thread was applauded by thousands of users, including Welsh Blood Service which responded with a gif of Meryl Streep cheering.
The thread appeared to encourage many Twitter users to book appointments to give blood in future, whether as new or lapsed donors.
NHS Blood and Transplant has been contacted for further comment.