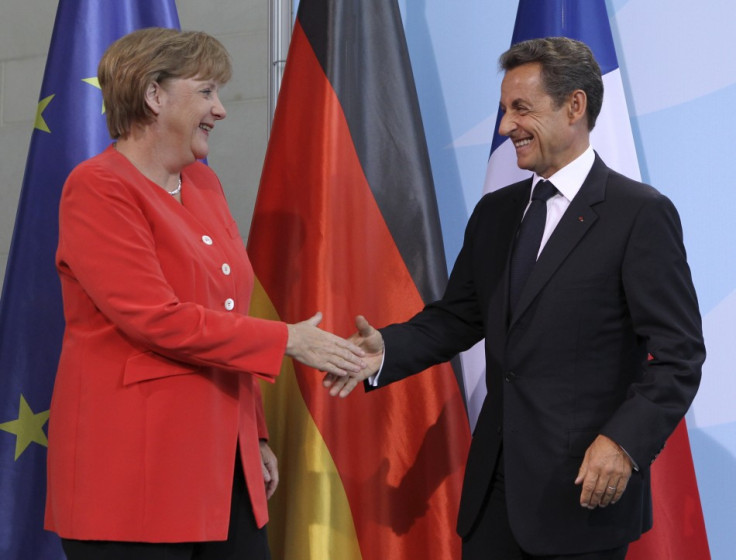 The leaders of Germany and France have agreed that private creditors should participate in a new rescue programme for Greece by voluntarily agreeing to roll over their holdings of Greek government bonds.
While the details of the arrangement still have to be finalised by Eurozone finance ministers, the agreement in principle on a rollover , rather than a fully-fledged bond exchange including longer maturities, originally favoured by Germany, was announced in Berlin on Friday by Angela Merkel, German chancellor, and President Nicolas Sarkozy of France.
The two leaders were speaking after Greece's Prime Minister George Papandreou announced a cabinet reshuffle, which include a new finance minister, Evangelos Venizelos.
At a press conference in her office in Berlin, Ms Merkel said that the "Vienna initiative" of 2009, when banks agreed to maintain their lending exposure in central Europe, was "a good foundation" for a deal.
Mrs Merkel and Mr Sarkozy met in Berlin after a public disagreement between their governments over whether private investors should be forced to assume a greater burden to resolve Greece's debt crisis.
There had been calls in Germany that investors should allow Greece extra time to pay off debts and should be made to participate in future fundraising by the Athens government.
After the meeting, the two leaders said they agreed that any private sector involvement should be "voluntary" not compulsory, a position Germany had taken from the start of the negotiation.
"The central principle is voluntary contribution," Markel said. "That is an important message to the banks. There are concerns that we want to trigger a credit event. We do not want that. We cannot run such a risk." Finally she also asserted that everything should be agreed with the ECB, as well as the International Monetary Fund and European Commission involved in designing a new Greek rescue package.
The German chancellor also praised George Papandreou, the Greek prime minister, in his efforts to win parliamentary approval for the new programme, and called for the Greek conservative opposition to support the package.
Mr Sarkozy backed up Mrs Markel's comments when he said the deal should be voluntary, it should not trigger a "credit event" in the financial markets, it should have the backing of the ECB, and it should be agreed rapidly.
Asked if the deal would be identical to the Vienna initiative, or be a more ambitious "Vienna plus" arrangement to provide more extended relief to the Greek government, he said: "To say we are in the spirit of Vienna suits me very well."
Angela Merkel and Nicolas Sarkozy were speaking after Greece's Prime Minister George Papandreou announced a cabinet reshuffle, which include a new finance minister, Evangelos Venizelos.
At present, it still remains unclear under what terms private investors might voluntarily take part in a Greek bail-out.
The news eased tensions in financial markets, and the Euro rallied from a session low of $1.4125 to trade up 0.4 per cent at $1.4266. European financial stocks also saw buyers, contributing to a rebound for the FTSE Eurofirst 300 of 0.5 per cent to 1,090.2.
Also, although an agreement has now been reached, Germany is still pushing for the maximum possible participation of private bondholders. France and the European Central Bank, on the other hand have resisted any arrangement that would cause Greece to be classified by rating agencies as in default.
Wolfgang Schäuble, German finance minister, has said he hoped the private sector would contribute for €30bn of the total package of €120bn, and Jan Kees de Jager, his Dutch counterpart, has said private creditors should provide one-third of the total relief to Greece.
However, Merkel is now facing a backlash domestically over Germany's huge financial contribution to European bail-outs and France's Three biggest banks , Credit Agricole, BNP Paribas and Societe Generale - are heavily exposed to the Greek economy, which led ratings agency Moody's warned it may downgrade the three French banks because of their exposure to Greece.