France forward Pascal Pape will miss the remainder of the Six Nations Championship after being banned for 10 weeks for striking Jamie Heaslip with his knee, with left the Ireland No.8 with broken vertebrae.
The 34-year-old will miss his country's remaining matches against Wales, Italy and England and is set to miss a significant portion of the rest of Stade Francais' season.
Pape was initially given a yellow card during the 18-11 defeat by Ireland by referee Wayne Barnes but this punishment has been upgraded to a lengthy ban which ends his involvement in this year's tournament.
The French lock apologised to Heaslip, who has been ruled out of the matches against England and Wales next month, on Twitter and that display of remorse ensured he avoided a ban of 15 weeks.
The Six Nations Disciplinary Committee stated the incident should have been punished with a red card during regular play but took into account Pape's repentant stance on social media, which has been well received by Heaslip.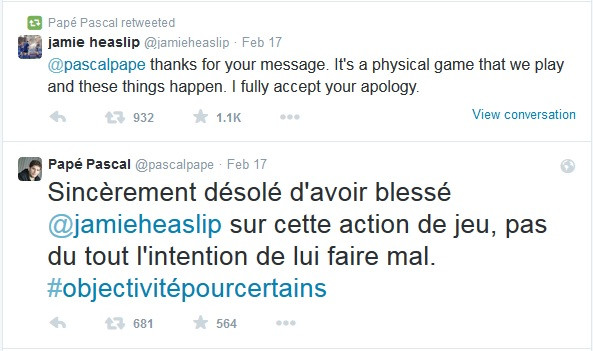 A statement read: "The Disciplinary Committee decided that the offence should be categorised at the top end of World Rugby's scale of seriousness and set an entry point of a 15-week suspension.
"It noted further the absence of aggravating factors and the existence of certain mitigating factors, including the player's admission of foul play and his expressions of remorse for what had occurred and the injury sustained by his opponent, in applying a five-week [33%] reduction from the entry point."