A man, who was allegedly armed, has been shot by French officers in Paris after entering a police headquarters. Witnesses confirmed hearing two or three gunshots around 12pm local time.
According to local media, officers shot the man outside the police station, which is located on 34 Rue de la Goutte D'Or in the 18th Arrondissement, a multi-cultural neighbourhood.
Police union sources told Reuters news agency the man was wielding a knife as he tried to enter the police station, with one of the sources saying the man appeared to be wearing a belt of some sort, but could not say whether it was an explosive one. Sources told AFP news agency the man was wearing a fake suicide vest.
Details emerging from the Interior Ministry revealed that the man may have shouted "Allahu Akbar" ("God is great" in Arabic) while trying to attack a police officer.
The Paris prosecutor said the man was carrying a piece of paper marked with the Islamic State flag and an "unequivocal" claim of responsibility hand-written in Arabic.
Investigators matched his fingerprints to those on file for a man convicted of theft in 2013. At that time he was a homeless and had identified himself as Sallah Ali, born in Casablanca, Morocco, in 1995, a source close to the investigation told AFP.
But police had not yet officially confirmed the man's identity.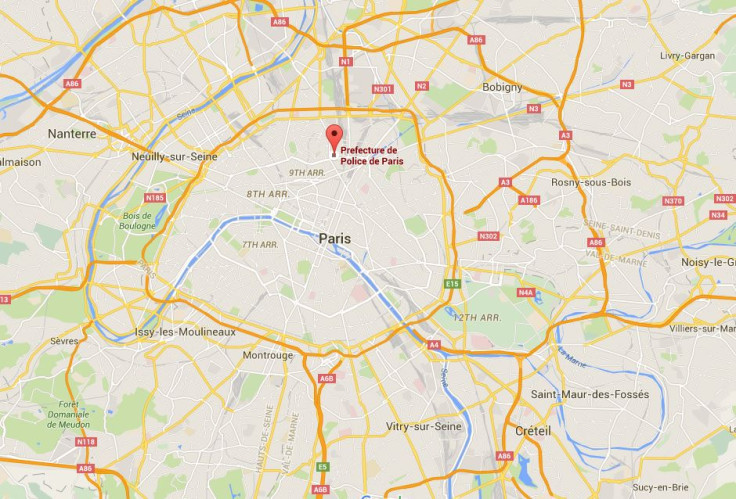 The attempted meat cleaver attack came just as the French president, François Hollande, was making a speech to security forces in a ceremony on the other side of the city at the Paris police HQ to mark the anniversary of the Charlie Hebdo killings.
Eight of the publication's journalists were among the 12 murdered at the magazine's Paris offices when brothers Cherif and Said Kouachi stormed the building with assault rifles.
Over the course of a three-day manhunt for the pair and subsequent violence in the French capital which targeted a Jewish supermarket and police, 17 people lost their lives.
In his speech to the security forces, Hollande hinted at intelligence failings and called for all branches of the security services to cooperate more closely. "Faced with these adversaries, it is essential that every service – police, gendarmerie, intelligence, military – work in perfect harmony, with the greatest transparency, and that they share all the information at their disposal," he said.