Frank Field joins doctors and nurses urging government to inject NHS with more cash
Downing Street is frustrated by senior NHS figures making political interventions in the winter crisis.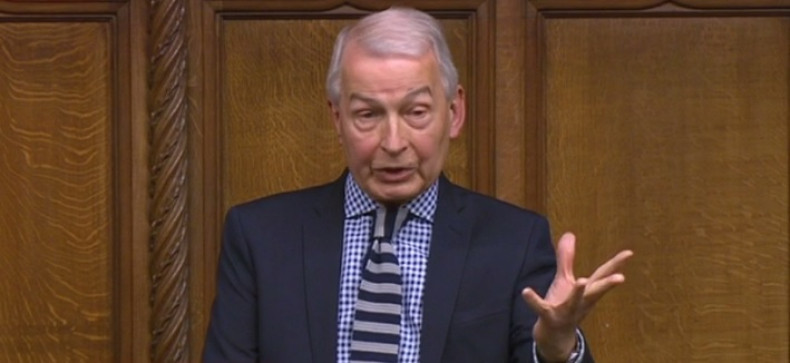 Veteran MP Frank Field has added his voice to calls for an urgent injection of NHS cash in the wake of several reports that hospitals around the country are close to breaking point.
The member for Birkenhead has made the intervention after a nurse contacted him describing herself as "broken". She told him she was crying with fear before going to work where she would typically see queues of five ambulances waiting with patients outside her A&E department. She also claimed that nurses had sustained injuries while lifting heavy equipment because of staff shortages.
The Royal College of Nurses have described current conditions in the NHS as the worst they have ever seen. Separately, the Royal College of Physicians have written to Theresa May demanding more investment because services are "struggling or failing to cope".
Field said: "The funding of the NHS is currently built upon extremely shaky foundations. The impact of this inadequate funding on patient care and staff morale is becoming increasingly clear.
"I therefore believe that the Government should immediately begin weighing up options for an increased health and social care budgets, before taking steps to merge the two services into a combined, adequately funded national health and social care service."
In the last week it has been reported that:
Record numbers of patients are facing long waits in A&E, according to leaked NHS documents seen by the BBC
A third of hospitals in England issued alert warnings signalling the need for urgent action to save services in the last month
Two patients died on trolleys at a hospital in Worcestershire while waiting for beds
The impending winter crisis has led Health Secretary Jeremy Hunt to announce that he may abandon the national target of treating 95% of casualty patients within four hours. Hunt has also suggested that free healthcare could be denied to smokers and the obese. Doctors responded to his remarks by urging him not to blame patients for circumstances while the government continues to withhold extra funding for the NHS.
Relations between healthcare professionals and the government are particularly fraught and seem set to worsen as freezing UK temperatures pile more pressure on beleaguered services.
The Times reported that Theresa May's senior aides were privately furious with Simon Stevens, chief executive of NHS England. No 10 is reported to believe that he is making overly political interventions and that he was signed up to a funding deal with the government in 2015.
Downing Street are said to be aghast that the NHS is pleading for more funds when other departments, including the Home Office, which May headed for six years, have had their budgets cut.