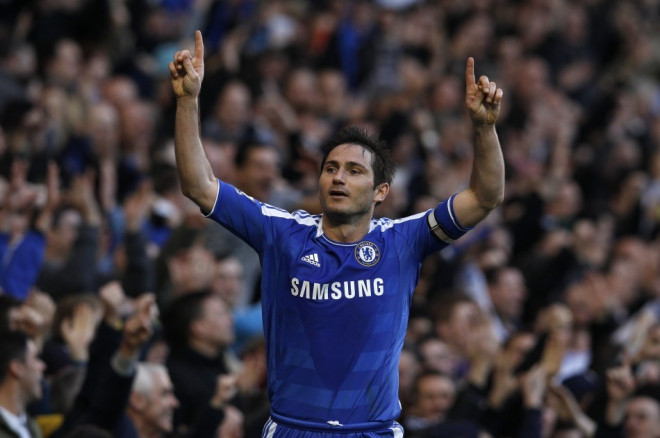 England international Frank Lampard has confirmed that he will be leaving Chelsea at the end of this month when his contract expires on 30 June.
Lampard, who turns 36 on 20 June, played under nine different managers at Stamford Bridge during his 13-year spell. Born in London, the midfielder joined West Ham United's youth team before breaking into the first team in 1996. He plied his trade at Upton Park until the then Blues manager, Claudio Ranieri signed him in the summer of 2001.
The statement on Chelsea's official website read, "Frank Lampard's momentous career as a Chelsea player will end when his contract expires at the end of this month."
"Lampard has not yet announced his destination but all at Chelsea Football Club wish him every success for the future. He leaves with our enormous gratitude for the major part he played over 13 years packed with unforgettable victories, trophies lifted and records set."
The 35-year-old's has won various silverware with the west London club which include, three Premier League titles, four FA Cups, two league cups, one Champions League and one Europa League.
Talking about his departure Lampard in his statement explained, "When I arrived at this fantastic club 13 years ago I would never have believed that I would be fortunate enough to play so many games and enjoy sharing in so much success. This club has become part of my life and I have so many people to thank for the opportunity."
"Firstly, Ken Bates, who put his neck on the line to sign me as a young player and without him I would not have even begun this experience. Roman Abramovich, the man who saved our club and took us all to new levels. His desire to push the club to the top of the football world has rubbed off on everyone."
"All the managers and coaches who have helped me develop my game during the time I have been here. I have learnt from every one of them. All the brilliant team mates who I have been lucky enough to train and play alongside for so long. Not just their football qualities but also the friendships I have gained along the way.
"I'd also like to give a special mention to all the staff and people behind the scenes at the club who do not receive the glory but without them the club would simply not function."
"The club will move forward, and as a Chelsea man I have no doubt that with the quality of the players that are there, they will continue with the success that we have all enjoyed over the past seasons."
"Finally, and most importantly, I would like to thank the Chelsea fans. I believe they are the greatest fans in world football. You have supported me from the moment I arrived."
"Not only on the pitch, but in difficult moments in my personal life off the pitch. I will never forget. I feel honoured to have shared so many special times with you. Bolton, Amsterdam, Munich, the list goes on and on. I, and we as a team, could not have achieved those moments without your support."
"Whatever the next challenge is for me I will always be amongst you and have Chelsea in my home and in my heart. Hopefully I will get to see you all soon to say goodbye properly. In the meantime thank you for the memories and keep making history!"
Lampard becomes the third departure from Mourinho's side this summer alongside his compatriot Ashley Cole, who is poised to leave for free while David Luiz was sold to Ligue 1 outfit Paris Saint-Germain for a reported £50m fee.
The midfielder, who is Chelsea's all time top-scorer with 211 goals, claimed that he could retire from football if he does not get an extension. However, he is being linked with a move to Manchester City's MLS franchise New York City FC.
He is currently in Miami with the England team preparing for the World Cup in Brazil, commencing on 12 June.