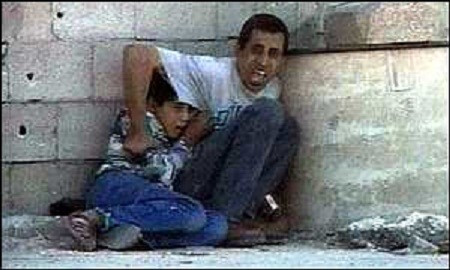 A French court is to re-examine allegations over the death of a 12-year-old Palestinian boy, who died in his father's arms during the second Palestinian intifada.
The Cour de Cassation, the highest appeal court in France, has ordered a retrial after another appeal court overturned a libel conviction involving Philippe Kersanty and television station France 2.
Kersanty, founder of the online French media watchdog Media Ratings, had alleged that a France 2 television crew had staged the shooting and death of Mohammed al-Dura, which it blamed on Israeli troops.
The young Palestinian died in his father's arms in Gaza on 30 September 2000, after being shot during an exchange of fire between Israeli troops and Palestinians. According to the narration of the station's report, he was killed by Israeli bullets.
Kersanty was convicted of libel by a French court in 2006 after he accused France 2 of faking the footage. The verdict was subsequently overturned by an appeal court in 2008, arguing that Kersanty had a right to express his opinion.
The Cour de Cassation has now rejected the last ruling and ordered the lower court to hear the case again.
France 2 and Charles Enderlin, the channel's veteran correspondent in Israel, who had narrated the report, both welcomed the ruling and continued to maintain that the original report is accurate.
The footage relating Dura's death had shocked audiences across the world and the boy became a symbol of Israeli oppression of Palestinians.
Many others sided with Kersanty, however, viewing the report as an attempt to discredit Israel.