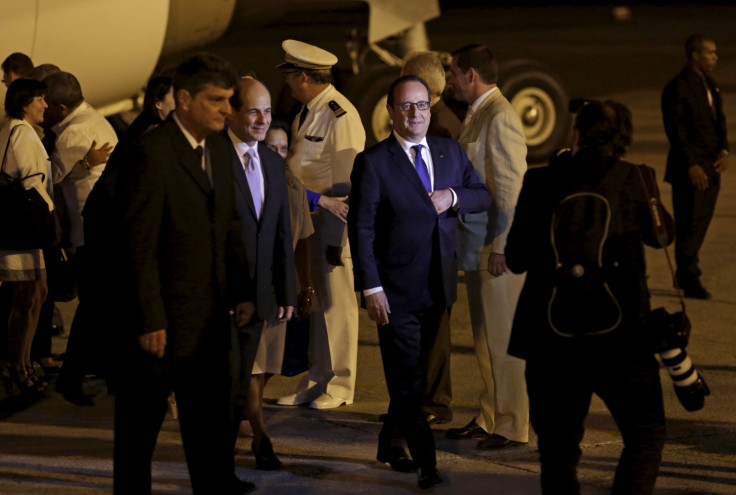 French President Francois Hollande has arrived in Cuba becoming the first French leader to visit the country in more than a century.
Hollande is to meet his Cuban counterpart Raul Castro later in the day during his one-day landmark visit as Paris is expected to play a leading role in the EU's rapprochement with Havana.
He is also the first high-profile Western leader to visit the communist-run nation since US-Cuba relations began to improve last year.
The French president is being accompanied by chiefs of firms such as Pernod Richard, Air France and Accor, which are keen on the Cuban market.
It is still unclear if Hollande will meet the Cuban revolutionary figure Fidel Castro, the ruling Castro's brother; the presidential office has said the French leader is available for a meeting.
French-Cuban ties have been frosty since Paris suspended its relations with Havana in 2003 over its crackdown on rights activists and journalists.
Nevertheless, France began talks on restoring the ties in April last year assuring that it would exhort Cuba to improve the human rights situation.
On the eve of his visit, Hollande told reporters the purpose of his Cuba tour "is that France be the first among European nations, and the first among Western nations, to be able to say to the Cubans that we will be at their side if they decide themselves to take needed steps toward opening."
"Cuba wants to move on to a new phase, a new period, a new time for this island that was victim of an embargo. There are still a lot of measures in place that block trade and business."
Hollande's five-day Caribbean tour has taken him to the French Caribbean island of Guadeloupe and the West Indies. He also visited the French territories of Saint-Barthélemy, Saint Martin and Martinique.