Frenchman survives 95% burns after full-body skin graft from 'hero' twin brother
Franck Dufourmantelle can now walk and use his hands after being helped by brother.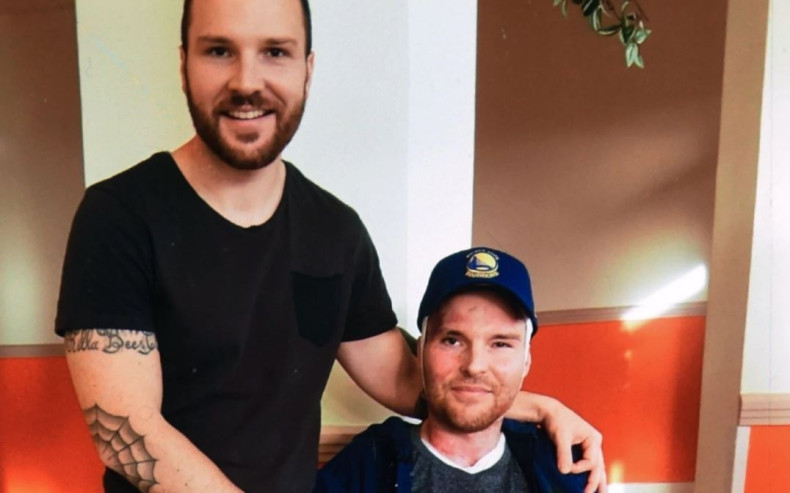 A 33-year-old burn victim at death's door was saved by skin transplants from his "hero" identical twin brother in what French doctors hailed as a world-first operation.
Franck Dufourmantelle was, in his own words, turned into a "human torch from head to toe" when volatile chemicals he was handling caught alight while he was working at a factory.
He suffered burns across 95% of his body. When he arrived at hospital doctors said his chance of survival was as low as 1%.
But hopes were raised when they learned he had an identical twin brother, Eric.
"His chances of survival were minimal. A severe burn patient dies when his own skin becomes a poison," Professor Maurice Mimoun, a plastic and reparatory surgeon involved in the operations, told The Daily Telegraph.
"But when I learned that Franck had an identical twin [from the same egg], the skies lifted. Their genetic make-up is identical. It's as if it were his own skin."
Transplants from an identical twin eliminate the risk the recipient's body will reject the donated skin.
Experts at the Saint-Louis hospital in Paris undertook about a dozen operations on Franck, taking nearly half of Eric's skin.
Thin layers between five to 10cm wide were stretched in a machine to cover a larger area and then placed on Franck's badly burned body. Unlike other skin graft patients, Franck required no immunosuppressants.
"It was a virtuous circle. The patient's skin regenerates faster and faster," said Prof. Mimoun. Four months after he was told he was nearly certain to die, Franck was discharged from hospital.
His accident took place in northern France back in September 2016, but doctors have only now made public the remarkable life-saving procedures they carried out.
"It is the first time that such a skin graft has been done between twins for 95% of the body," Prof. Mimoun told AFP.
Franck is today living at home with his partner, and still receives intensive therapy.
But he says the pain has subsided, he is able to walk again and is slowly getting the use of his hands back. Miraculously, his face was mostly spared.
"It's hard to take on board that I'm wearing [my twin's] skin," he told BFM TV.
"When it's an internal organ, you know it's someone else's – often a stranger, sometimes a family member. But here it's on the outside; you can see it," he added.
"I owe [Eric] my life. I take full measure of such a strong act of love. Whatever [Eric] says, he suffered. His body was raw."
Asked about the effect on his own body, Eric said it's nothing compared to what his brother went through.
"For me it was like a huge scratch. It turned into crusts and then healed up. I took three months off work. Today, it's like having sunburn."
Prof Mimon said the massive graft "encourages us to develop a universal skin, which one day will save lives. We're not that far off."
Earlier this month, doctors in Germany revealed they had successfully fitted a new skin to a seven-year-old boy suffering a rare disease that left his body covered in blisters.
Attempts at skin grafts from his father had failed and the doctors' desperation led them to a group of Italian scientists experimenting with skin cell regeneration techniques.
The doctors took a small sample of the skin, not much bigger than a postage stamp, and extracted the stem cells before genetically engineering them back to healthy cells.
After undergoing the pioneering skin replacement operations, the boy went from being bed bound to being able to play football and lead a normal life.