Die hard fans of spy movies such as James Bond and Kinsgman will be one step closer to living out their secret agent fantasies when they are wearing the Secret Shoe.
The futuristic footwear, designed by Oliver Sweeney, conceals six gadgets chosen from a list of 12 and sells for £2,000.
The shoes will be made from deer skin and will conceal the six gadgets under the soles (three in each shoe).
Among the tech selections is the world's smallest smartphone, a Swiss Army Knife, miniature video camera and aftershave atomiser. Users can also request a space in the sole for a key.
The mobile phone is the size of a thumb and includes a radio, voice changer, text, voicemail and can make calls with a micro sim.
The small video camera features night vision, motion detection and can record HD content.
Oliver Sweeney chief cobbler Tim Cooper said his team has gone to "extraordinary lengths" to source materials for the shoe. "Each hide is exceptional," Cooper said. "Our master clicker Gianni cuts the leather by hand. I'm involved in and obsessed by every part of the shoe making process."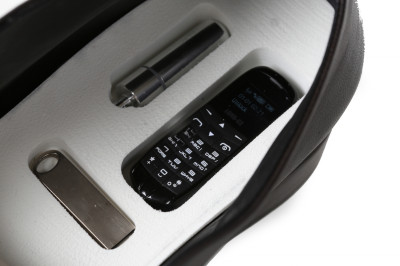 The shoe adds two inches to the wearer's height and buyers can even have details "fire written" into the Italian-made footwear.
The Secret Shoe is a collaboration between Oliver Sweeney and VeryFirstTo.com, a website that informs members of new luxury products on the market. VeryFirstTo.com founder Marcel Knobil says even the shoelaces have a technology twist.
"The laces themselves are made of Kevlar, originally used for parachute cords," Knobil said. "They can act as a friction saw cutting through wood or plastic. So should you ever find yourself zip-tied, you have a fighting chance."
Full list of gadgets that can go in the shoe:
Mobile phone
Tracking device
Kerv Payment ring
Currency capsule (to fit £50)
Swiss Army Knife
Torch
USB stick
Compass
Miniature video camera
Aftershave atomiser
Miniature pen
Pill case
The shoe goes on sale on October 31 and is available in black, brown and tan.