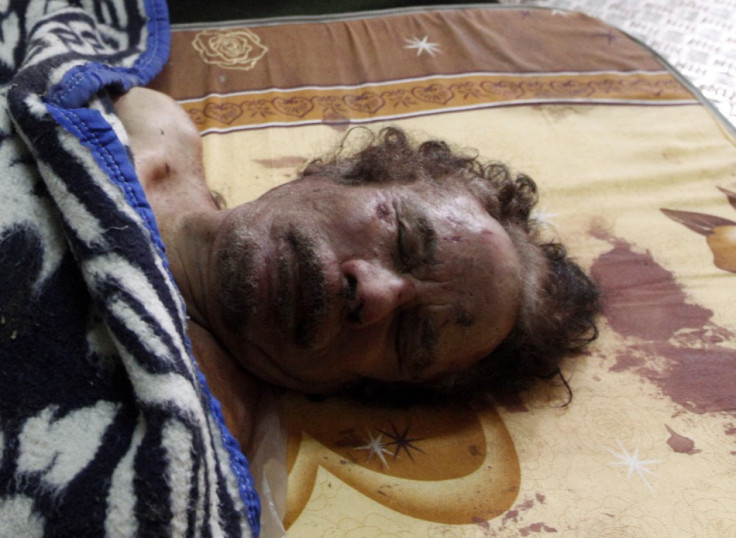 Guards locked the gates to the compound where the three bodies were conserved and displayed, with one guard reportedly saying "That's enough," "he's been causing us as much trouble dead as he did alive."
Libya's interim rulers have ended the public display of the bodies of Muammar Gaddafi, his son and army chief, but failed to explain the decision.
While the decision to stop the visits may indicate the NTC's intention to proceed with the three men's burials, no official explanation has yet been provided.
Witnesses have said that the constant flux of visitors, and the closing and opening of the refrigerator unit hampered the conservation of the body.
For the past four days, Libyans have flocked to the compound to see the corpse of their former leader and have a proof he was dead.
The decision has proven controversial as according to Muslim tradition bodies have to be buried as soon as possible.
While Gaddafi has said in its will he wanted to be buried in Sirte, his birthplace, along with his family members, NTC officials are said to still be divided over where and how to bury the former leader.
While some want the funerals to take place at a secret location to prevent the place from becoming a shrine, members for Gaddafi's Tribe have called for him to be buried in Sirte.
"There are different views," said an NTC official in Misrata. "Some people want them buried in the invaders' cemetery in Misrata," he said, referring to a place outside the city near the sea where hundreds of fallen Gaddafi fighters have been buried with some dignity and respect.
"Some people want to hand them over to his tribe, but we have some demands. Many people have been kidnapped and killed by people in Sirte since the 1980s. We asked them to give those bodies back. Since then they have been quiet," said the official who asked not to be named.
According to the head of the NTC Mustafa Abdel Jalil, the council has now formed a committee to decide the fate of Gaddafi's corpse, but the politician insisted the group would follow guidance from Libya's religious authorities.
As public opinion also remained divided the official Egyptian news agency claimed Libya's fatwas office for religious decrees, had declared Gaddafi was not a Muslim as he had denied the teachings of Prophet Mohammad and so therefore should not be given an Islamic funeral.
With no official guidelines on the way Gaddafi will be buried, only time will tell whether the NTC leaders and Libya's office for religious decrees decide to burry Gaddafi according to Islamic precepts.