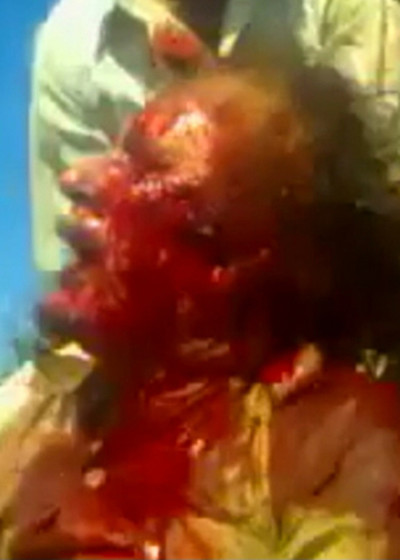 Thursday brought an abrupt end to the hunt for Libyan dictator Moammar Gadhafi. But as authorities seek to piece together a timeline of his final moments, several contradicting versions emerge.
The former ruler, who was taken out of a sewage pipe alive, offered no resistance. TV footage shows rebel fighters dragging Gadhafi with a gun pointed at his head, with the Libyan ex-leader later being struck, kicked, and shot. The fighters have claimed they saw Gadhafi get hit in his lower body by a shot from a rifle. One fighter said he hit Gadhafi with his shoe, which is a grave insult in the Arab world.
One report said Gadhafi was hit by a bullet in his right arm when his captors put him in a truck. However, the truck was caught in a crossfire between the revolutionaries and Gadhafi's forces, during which he was hit in the head by a bullet. The forensic doctor could not tell whether it came from the revolutionaries or from Gadhafi's forces.
According to Reuters, the wounds in Gadhafi's body, including the bullet hole in his head, could help in solving the puzzle of whether he was shot in the crossfire during a battle or by the fighters who captured him.
A local military commander in Misrata told Reuters that when the "overenthusiastic" fighters came face to face with the man they hated the most, they took matters into their own hands. "We wanted to keep him alive, but the young guys -- things went out of control," he said. According to Reuters, the rebels found the former Libyan strongman hiding in a hole in the ground. The rebel fighter who found Gadhafi said that the Libyan leader shouted, "Don't shoot, don't shoot," upon his capture.
Libyan authorities will secretly bury the body of the dictator, the BBC reported.
Apparently, the Libyan government still has to decide on the place and process of burial, but rumors are abuzz of a secret burial for Gadhafi. The brutal death of the dictator evoked contradictory responses around the world. U.S. Secretary of State Hillary Clinton said Gadhafi's death will usher in a new era for Libyans, while Venezuelan President Hugo Chavez said, "They murdered him." However, the Libyan authorities have denied rumors that Gadhafi was executed.
Start the slideshow to view the graphic photos of Gadhafi's final moments.
MUST READ: Was Gadhafi Sodomized by Rebels after Capture? New Video Exposes Abuse (Graphic Photos, Video)
MUST READ: The Body of Slain Libyan Leader Moammar Gadhafi: Exclusive Photos