We've come too used to a poignant silence around White Hart Lane. Just 13 months ago, Fabrice Muamba lay motionless on the turf after suffering cardiac arrest during an FA Cup tie. The crowd stood silent before chanting the name of the ex-Bolton Wanderers midfielder, as he was stretchered away from the pitch having undergone intensive treatment.
Despite the circumstances being altogether less serious, Tottenham's home had that same powerless feeling to it on Thursday night, as Gareth Bale lay stricken after falling on his ankle during a late stoppage time challenge.
The reception both Muamba and Bale, in their contrasting states, received upon leaving the game, were poles apart. Chants, cheers, and prayers greeted Muamba's eventual removal, with fans inspired by hope of a potential recovery. As Bale departed, he didn't so much inspire hope, as take with him any optimisim ahead of the remainder of Spurs' season.
Not that Tottenham's supporters had much to cheer about in the first place. Among the poorest performances during the reign of Andre Villas-Boas saw the hosts produce a rousing comeback from two goals down against FC Basel, but travel to Switzerland next week without a win outside of the British Isles for 27 months.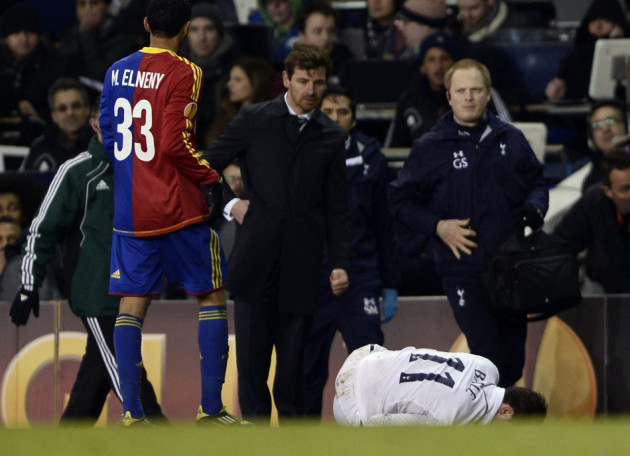 After the thigh injury to Jermain Defoe, which will keep him out at least until the visit of Manchester City next weekend, Villas-Boas' shallow attacking options meant he could ill afford further injuries.
But after just 24 minutes, the Portuguese manager's deepest fears were realized; Aaron Lennon going off with a knee problem. William Gallas followed late into the second half, before David Degan clashed with Bale; the subsequent fall doing the damage.
The worry for Villas-Boas is how a Spurs side who looked so devoid of ideas for much of their 2-2 draw with Basel, who are now overwhelming favorites to reach the last four, will sustain their European and domestic hopes without him.
His absence is compounded by the loss of Lennon, who remains the only viable option on the right hand-side for Spurs and provides valuable width and balance. The ex-Leeds United man's return to the England fold is evidence of how his form has improved this season.
Bale's brilliance since the turn of the year as sparked accusations that Tottenham can only be regarded, at their highest point, as a one-man inspired team. The reality is of course somewhat different but with the club's prime trio all out, if Spurs' chances of success this season, namely qualification for the Champions League, are improbable without Bale, Defoe and Lennon's absence make the campaign a near lost cause.