Tottenham's Gareth Bale was in superb form for the White Hart Lane club on Thursday evening. The Welsh international scored two brilliant free kicks to give Andre Villas-Boas and Spurs a priceless 2-1 win in the first leg of a UEFA Europa League knock-out tie against Olympique Lyon.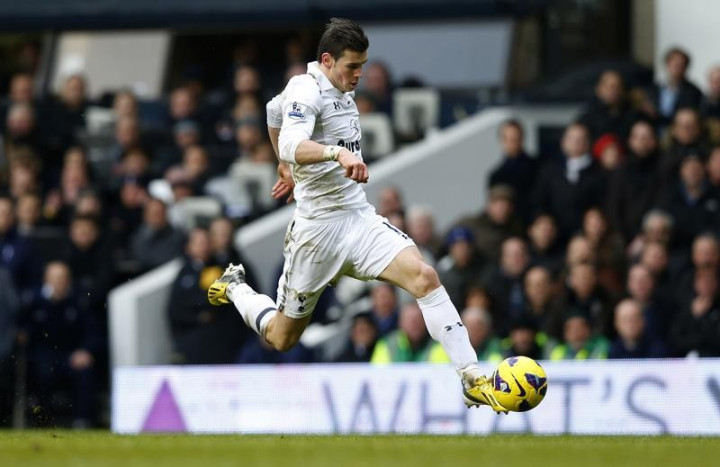 Ominously, the 23-year-old Bale said that he felt he could perform at even higher level than he is presently, once again sparking comparisons between himself and Real Madrid star Cristiano Ronaldo. Bale has been linked with a mega-money transfer to the Santiago Bernabeu and the prospect of Bale and Ronaldo combining for the Spanish champions must surely be an exciting one for football fans.
"It's probably the best I've been playing so far in my career... [but] I've still got a lot of improvement. I know what I've got to do, season after season improving in all areas. I just want to keep doing that, keep working hard and, hopefully, keep getting better," Bale said after the Lyon game.
Bale's second goal was a dramatic late winner but all the emotions aside, the Welshman revealed that like Ronaldo, he too spent several hours practicing free kicks.
"I've been practising for a while now, all sorts of distances. It was just nice to see them go in. It's one of them things I think if you keep practicing, it does come off in a match," he admitted, adding, "I knew it was the last kick of the game but I had to get it up and over the wall and thankfully I saw it go in. I've just got to keep my head down, keep working hard, keep trying to keep my form."
Bale's form has been truly exceptional in recent weeks; he has scored all of Spurs' goals in the last three games (1-1 at Norwich City, 1-0 at West Brom and 2-1 against Newcastle United) and has 17 goals in 31 appearances this season.
However, he dismissed any notion the club were overly reliant on his goals and would probably struggle were he to leave the club.
"I think we work as a team on the pitch, I'm just lucky enough to be getting the goals at the moment," he said, "So, yeah, we worked hard as a team again tonight. I don't think it's down to individuals but, yeah, the whole team deserves credit."
Spurs now have a week's break before their next game, which is the return leg against Lyon in France. Kick-off for that match is scheduled for 6pm GMT on 21 February.