Manchester City midfielder Gareth Barry has been charged with misconduct by the FA for verbally abusing a match official during the Citizen's 2-3 defeat against Manchester United at the weekend.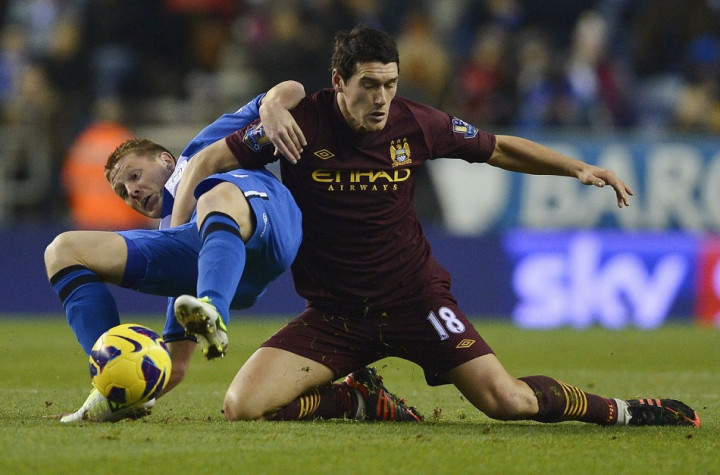 Sir Alex Ferguson's side won the match with a late winner from Robin van Persie as the former Arsenal skipper scored from a free-kick, awarded to the visitors in stoppage time. And Barry is understood to have used inappropriate language towards the fourth official Mark Clattenburg, as he left the pitch.
"Manchester City's Gareth Barry has been charged by The FA for a breach of its Rule E3 in that he used abusive and/or insulting words towards a match official following the Manchester City v Manchester United game on Sunday 9 December 2012. Barry has until 4pm on Thursday 13 December 2012 to respond to the charge," FA released the statement in their official website.
The 31-year-old has an option to either accept the decision, which would see him face one-match suspension, while filing an appeal against it could see him face a longer ban, if the verdict goes against his favour. This is not the first time we have seen such behaviour from players of late, as Chelsea midfielder John Obi Mikel was recently handed a three-match ban, after being found guilty of using inappropriate language towards the match official during the Blues' league game against United at Stamford Bridge in October.
Meanwhile, the Manchester derby was overshadowed by some infamous incidents, which include United defender Rio Ferdinand being struck by a coin thrown from the crowd, while another supported invaded the pitch during the game. Manchester police has already arrested nine people, who are involved in making racist remarks and pitch invasions. After the events, FA chairman David Bernstein has called for greater respect between the players, match officials and the fans during the game.
"We have made good progress but I think there's still room for better behaviour on the pitch. Respect is a really important word. Respect between players and referees, players and players and between fans and players. If we could establish that greater level of respect throughout the game a lot of the things we are talking about I think would disappear," Bernstein said.