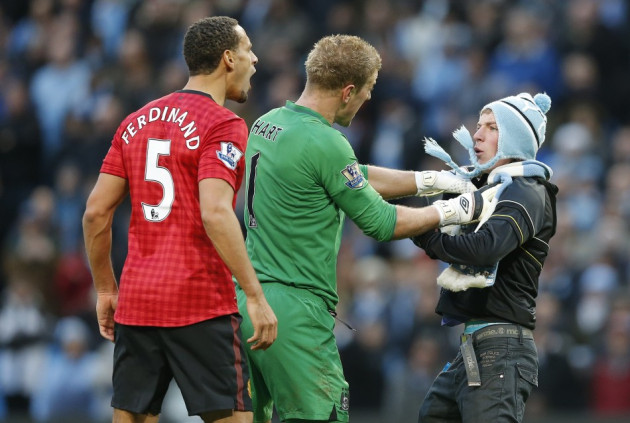 Police in Manchester have charged nine people following Sunday's derby match for charges including making racist remarks and pitch encroachment - but the fan who threw a coin at Rio Ferdinand has yet to be identified.
Police said Peter Harrison, 30, of Kearsley has been charged with racially aggravated public order, while Matthew Stott, 21, of Knutsford and Christopher Johnson, 52 of Alderley Edge have both been charged with pitch encroachment after they ran onto the field following Robin van Persie's injury time winner for Manchester United in their 3-2 victory over rivals Manchester City.
Six other people have also been charged for offences including being drunk and disorderly and breaching a football banning order. All are due to appear before Manchester City Magistrates' Court on 4 January.
Four other people were arrested for offences including suspicion of possession of a class A drug and ticket touting, but were not charged.
Greater Manchester Police Chief Inspector Steve Howard played down the scale of the trouble, saying: "To have just 13 arrests for a crowd of this size and a match of this proportion is a testament to the policing operation we put in place.
"Despite fierce rivalry and high tension there was no major disorder. However, we will continue to investigate the coin throwing incident and are determined to work with the club to bring the perpetrator to justice."
Police are continuing to work with Manchester City to identify the offender who hit Ferdinand with a coin in the aftermath of van Persie's goal. However City have offered a "wholehearted apology" to the defender for the injury he suffered.
A club spokesperson said: "Manchester City FC security officials are co-operating fully with Greater Manchester Police in relation to events leading up to the throwing of missiles on to the field of play, and between the two sets of supporters, during today's game against Manchester United.
"Manchester City wishes to offer its sincere apologies to Rio Ferdinand. The club unreservedly condemns the actions which led to his being injured. GMP's review of all fan behaviour at today's match will be fully supported by the club, through the provision of CCTV footage and eyewitness accounts. Following this review, and any associated police action, the club will also apply its own disciplinary policies for any fans found guilty of offences."
An FA statement added: "We will work with the clubs and authorities to identify those responsible and support the strongest sanctions available, including life bans. We condemn any such acts and it is simply unacceptable that any player is exposed to injury in this way. To witness Rio Ferdinand leaving the field with a cut above his eye to receive treatment is appalling."