Go to Garmin's website and you will be presented with a list of 81 different satnavs ranging in price from £60 right up to the premium end at £300 - so even being able to pick the right device from Garmin is tough.
Garmin nüvi 2599LMT-D features
5in display (480 x 272 pixels)
184g, 18mm
Two-hour battery life
Lifetime map updates
Voice-activated navigation
Live traffic updates
Price as reviewed: £180
All have names that are as ridiculous as the Garmin nüvi 2599LMT-D which is the one I am reviewing here. Priced at £180 it's bang in the middle of the company range, part of their Advanced series.
As satnavs go, the 2599LMT-D is well designed, slim and lightweight and won't spoil the look of your car's windscreen or dashboard too much - and you can position it vertically or horizontally. The 5in screen is bright and vibrant and easily viewable in all lighting conditions which is very important.
The nüvi 2599LMT-D comes with an impressive list of features including lifetime digital traffic, European maps, voice recognition, and its big selling point which is Foursquare integration to flag up points of interest from the social network's database.
So how does it perform?
Setup is simple and straight forward. Once you get past the seemingly endless legal notices, you are asked if you want to set up the voice recognition system with your voice. If you do it's a fast and straightforward process and I found it to be a surprisingly robust voice recognition engine. While not flawless, it was much better than I expected.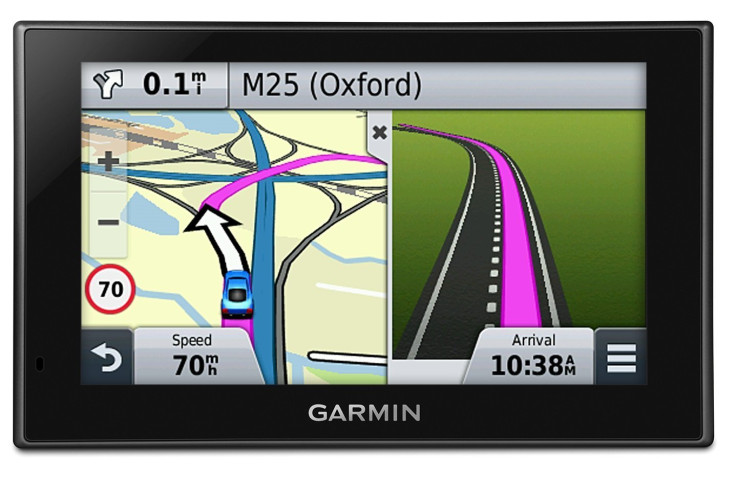 The Garmin interface is not hugely intuitive but the icon-based menu is at least welcoming and for the most part you won't be using the vast majority of it once you get used to how it works.
Planning journeys was also impressive, and even for a trip from London to France, the nüvi 2599LMT-D managed to integrate the channel tunnel into my trip without me having to tell it.
Mounting the device is straightforward and a little tab on the mount lets you easily take your satnav with you when you leave the car.
Interface
The map interface is nice and clean, with traffic updates (which are based on DAB and not as good as the company's live traffic updates which are available on the more expensive models) popping up on the right hand side of the screen.
During the trip to France, I found that some of the traffic information was helpful, while other times it was updated too slowly to be of real use, and by the time we got to where the problem was, the traffic had disappeared.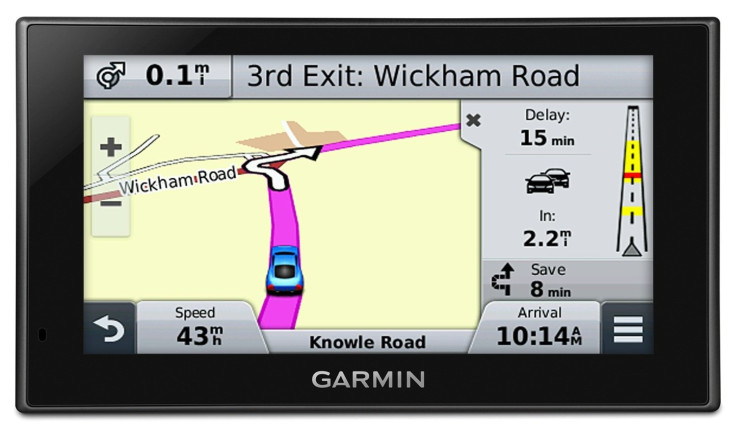 As for routing, I found that Garmin's algorithms brought me on routes I would have taken had I been doing it manually, though at one point it did re-route me through Paris at rush hour which - when you have a cranky baby in the back seat - didn't seem like the best option.
The reason I wasn't aware of the change en route until too late was because I had all voice notifications muted.
As for the social aspect of the nüvi 2599LMT-D, I didn't once find the information from FourSquare to be helpful. In France all it seemed to be telling me was where the next Buffalo Grill was located and that was certainly not the reason for my visit.
You can also hook up the nüvi 2599LMT-D to your phone allowing you to make and take calls through the device - though you can't make calls using just your voice which seems like an oversight.
A word on battery life. Without being plugged into your cigarette lighter, the battery will last the stated two hours and no more.
Verdict
Satnavs are a little like MP3 players in that much of their usefulness has been taken over by smartphones. Google Maps turn-by-turn navigation, though technically still in beta, has improved dramatically in the last 12 months and offers almost all of the features of a satnav.
The big drawback of this is that using such a system for long journeys will use up a lot of data and unless you are on an unlimited (and roaming) data plan, then you can't really use it for more than quick trips.
For £180 the Garmin nüvi 2599LMT-D is a decent option for those looking to get a stand alone device. Lifetime European maps and Digital Traffic updates along with voice recognition and the ability to connect with your smartphone are nice features making this a product worth considering - along with the 80 other satnavs in Garmin's range and the dozens on offer from TomTom.
Score: 7/10