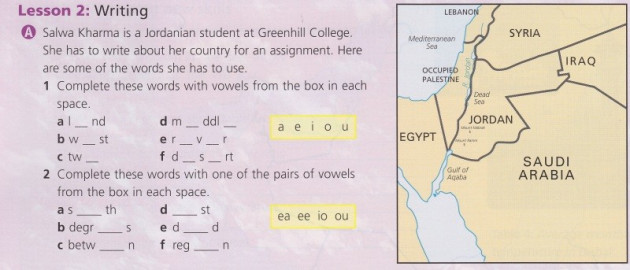 Garnet publishing has apologised for labelling Israel as Occupied Palestine on a map in a popular textbook used to teach English as a second language in the UK.
The book, entitled Skills in English Writing: Level 1 and printed in 2003, had printed the map as part of an exercise for a "Jordanian student at Greenhill College".
Liz Wiseman, a teacher, denounced the mistake to Israel Today. "I teach English as a foreign language in a further education college in Nottingham, England. I came across the attached map and couldn't believe my eyes" she said.
She said that the book is "one of the more popular and mainstream English Language Teaching (ELT) textbooks" although not compulsory.
After receiving several attacks from Israel-based publications, Garnet apologised for the mistake.
"In the last few days we have had a number of enquiries about a map of Israel included in Skills in English Writing - Level 1. Unfortunately the map was mislabelled 'Occupied Palestine'. This was a serious editorial error and was subsequently corrected. The book in question has not been in print for several years," it said in a statement.
"Please accept our sincere apologies for any offence caused but rest assured that this was a genuine mistake and in no way reflects any Garnet Education policy."
The publisher remarked that it was unlikely that institutions are still using the 2003 edition, but it was nonetheless in the process of tracking down existing copies and offering a substitute.
"This mistake predates the existing editorial team so it is difficult to understand exactly what happened," said the publisher. "We have checked the manuscript submitted by the authors and this did not include the map or a brief for the map, so the blame does not rest with them."
Garnet spokesman Dr. Nicky Platt even forwarded a scanned page from a newer book that shows a map of the Middle East with Israel correctly labelled.