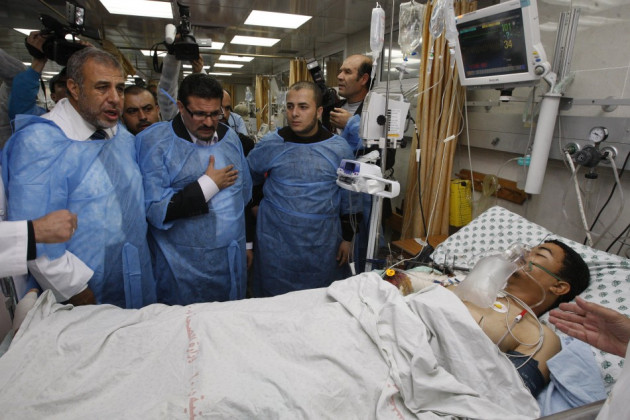 Gaza's hospitals are reporting a shortage of medical supplies as the Palestinian territory struggles to cope with Israel's continued bombardment.
The Israeli Defence Force (IDF) reports that it struck a further 80 targets overnight, after 24 Palestinians were killed on Sunday - the bloodiest day of the conflict so far.
"The death toll among civilians has doubled because the IDF has destroyed almost all military targets and now has started attacking the civil population," Meri Calvelli, Italian co-operator at the Association of Cooperation and Solidarity (ACS) in Gaza, told IBTimes UK.
"Hospitals are running out of medicines needed in complicated cases such as people wounded by bombardments."
Hamas is thought to be running out of rockets, limiting its ability to respond to the IDF attack. Reports suggest Israel is now preparing a ground offensive in Gaza with tanks as well as troops.
Israeli aircraft struck crowded areas in the Gaza Strip on Monday, driving up the civilian death toll and in one case devastating several homes belonging to one clan - the fallout from a new tactic in Israel's six-day-old offensive meant to quell Hamas rocket fire on Israel.
Escalating its bombing campaign, Israel on Sunday began attacking homes of activists in Hamas, the Islamic militant group that rules Gaza.
Overall, the offensive that began Wednesday killed 91 Palestinians, including 50 civilians. In all, 1,350 targets in the Gaza Strip have been struck since the Israeli operation began.
On the Israeli side, three civilians have died from Palestinian rocket fire and dozens have been wounded. An Israeli rocket-defense system has intercepted hundreds of rockets bound for populated areas.
Israeli police spokesman Micky Rosenfeld said 12 rockets had struck Israel by late Monday morning, including one that hit a school. Schools in southern Israel have been closed since the offensive started.
Israel launched the current offensive after months of intensifying rocket fire from the Gaza Strip, which continued despite the strikes.
The Israeli government recently approved the call-up of 75,000 army reservists. Some 31,000 have already been summoned - more than were deployed in the 2006 war against Lebanon or Operation Cast Lead.
Calvelli, who has been part of an agriculture programme set up after Cast Lead in 2009, escaped from Gaza on Sunday evening and is now in Ramallah.
"Yesterday we've been told that there was a temporary opening of the border so we escaped from Gaza," she said. "The UN was escorting us out of the Gaza Strip, while we could see bombardments ahead and behind us.
"We were forced to get out of Gaza against our will, but in these cases there's a protocol we need to subscribe to," she continued. "I wanted to stay because I think international cooperation in Gaza should stay there as a deterrent to military operation and to protect the population."
While she was exiting the Gaza Strip, Calvelli noticed several Israeli infantry and armoured brigades deployed in the Negev desert.
"I've seen other ground invasions from Israel and this time they are not in as many numbers as I thought," she said. "If Israel launches a ground assault, it will be a tragedy. In these cases, it's the civil population who pays the highest toll."
The European Union's foreign policy chief has expressed concern about the mounting death toll in the Gaza conflict, saying the crisis can only be resolved with a long-term solution.
Speaking at the start of a meeting of EU foreign and defense ministers in Brussels , Catherine Ashton said rocket attacks from Gaza into Israel must stop.
"What we have to do is to find ... a solution that brings security to the region," Ashton said.