Gazan Nationals Sheltering From Airstrikes In Schools
Without authorisation or enough money to escape through the Rafah crossing, the people trapped in Gaza, have started using UNRWA schools as bomb shelters.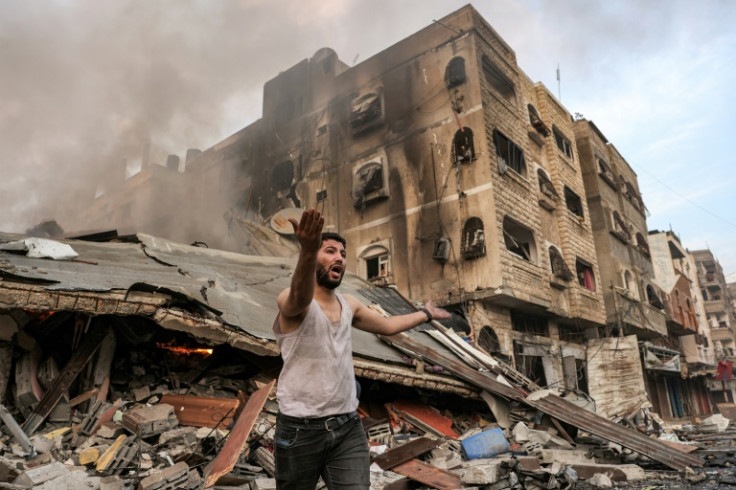 The brutal events of Saturday 7 October have escalated the crisis in Gaza significantly.
Gaza, which was once home to 2.3 million civilians, has been under constant threat from Israel's retaliatory airstrikes and has had its electricity, food and water supplies cut off.
The catastrophic Hamas attack on Israel resulted in the Israeli government formally declaring war on Gaza and right-wing Israeli Prime Minister Benjamin Netanyahu urging Gazan residents to "leave now".
Without authorisation, people in Gaza are unable to leave the Strip via the Rafah crossing into Egypt and have been forced to shelter from the airstrikes in schools initially set up by the United Nations Relief and Works Agency (UNRWA).
Recent reports that have measured the rising death toll in Gaza, note that at least 1,055 people have died and another 5,184 have been wounded since Saturday.
Speaking of Gazan civilians having their movement restricted prior to the escalation on Saturday, UNRWA Director of Communications, Juliette Touma said: "Electricity was very short in supply and the same with water. And people could not get in and out of the Gaza Strip freely."
Having already been under a blockade and governed by Hamas since 2005, Juliette Touma, the UNRWA Director of Communications, explained that "already the situation was pretty dire".
Leaving Gaza "involves paying a lot of money and doing a lot of coordination, so not everybody was able to afford doing that to leave through Egypt and to go to the world," Touma continued to explain.
"Two-thirds of people are poor, 1.2 million people rely on UNWRA assistance, UNWRA food assistance," she continued.
In a report, the United Nations said: "UNRWA schools are now housing roughly 170,000 residents who have fled their homes in the wake of the escalating crisis sparked by Hamas attacks against Israel last Saturday."
Four members of staff at the UNRWA school have been killed in the strikes conducted by the Israeli Defence Force (IDF), and 14 UNRWA facilities have been destroyed, according to the United Nations report.
Touma described her colleagues as "unsung heroes" who have been "on the ground providing services to people in need".
The UNRWA, which was established more than 70 years ago, sets out to be a safety net of assistance to Palestine refugees across the Middle East by using services like education, healthcare, and camp infrastructure to support them.
Touma also explained that the escalation has forced the UNWRA to "decrease its operations on the ground in the Gaza Strip" – including food distribution centres.
"Our schools have been closed and that's impacting the education of at least 300,000 Palestine refugee children in the Gaza Strip," she added.
Speaking of the people trapped in Gaza, Touma said: "We have people who are responding to the needs of the people in the shelters. They're giving them mattresses, a place to sleep, clean water [and] some food."
With some shops remaining open in the Gaza Strip, Touma warned: "We are following very closely the situation of the stocks and it is just a matter of a couple of weeks when basic stocks, basic supplies and also fuel, are going to run out in the Gaza Strip."
Calling on all aid parties to tend to the catastrophic situation in Gaza, the Director of Communications emphasised: "I think people have suffered for way too much for way too long. For many people in the Gaza Strip, this is the seventh time that they're going through a conflict."
The people in Gaza are "worried and they are fearful for themselves", in addition to being scared "for their children, for their loved ones; for what the next hour will bring, let alone the next day", she expressed.
"It is time for all of this to come to an end for the sake of everyone," Touma concluded.
© Copyright IBTimes 2023. All rights reserved.