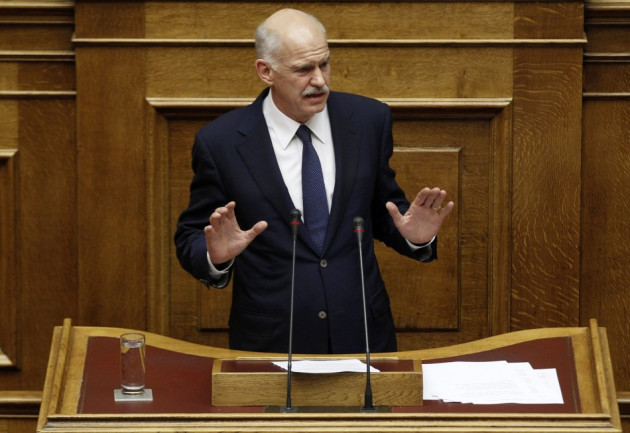 Former Greek Prime Minister George Papandreou and his 89-year-old mother have denied she is the owner of a €550m (£446m) Swiss bank account.
Two Greek newspapers reported Margaret Papandreou is behind the largest account on the "Lagarde List" of more than 2,000 Greeks hiding millions in Switzerland.
"The publications are clearly targeting me and the policies I implemented against all manner of political and personal interests," Papandreou said.
"Why such lies? Why such attacks? Perhaps because my family never served this country's interest groups," the former prime minister's mother added.
Greek newspapers To Vima and Proto Thema quoted the deputy director of the national Financial Crimes Squad (SDOE), Nikos Lekkas, as saying that Margaret Papandreou is "behind the biggest deposit" on the Lagarde List.
The deposit is formally in the name of civil servant Maria Panteli.
The list contains the names of 2,059 Greek alleged tax evaders holding up to $1.95bn (£1.2bn) at HSBC's Geneva branch.
Named after the head International Monetary Fund (IMF) Christine Lagarde, the list was handed to the Greek government by Lagarde in 2010, when she was finance minister in Nicolas Sarkozy's government.
The list was obtained and published earlier this year by Greek journalist Costas Vaxevanis, who was subsequently tried and acquitted and then on charges of violating privacy rights. Greek prosecutors appealed the sentence.
Greek prosecutors also investigated accusations against ex-Finance Minister Giorgos Papaconstantinou and his successor Evangelos Venizelos for ailing to order investigations into the Lagarde List despite being aware of it.
Margaret Papandreou's name reportedly came out during such investigation. Its conclusions were handed to the Greek parliament last week.
The country's lawmakers, among which Papandreou himself, have to decide if Papaconstantinou and Venizelos should face a parliamentary inquiry and possible criminal charges.
Papandreou stood down as prime minister in 2011, in the wake of the financial crisis that is lashing the southern European country.
When entering office in 2009, Papandreou called for reforms of the country's tax inspectorate to fight corruption and end tax evasion.