George Bush Arrest Unlikely After Warm Welcome in Zambia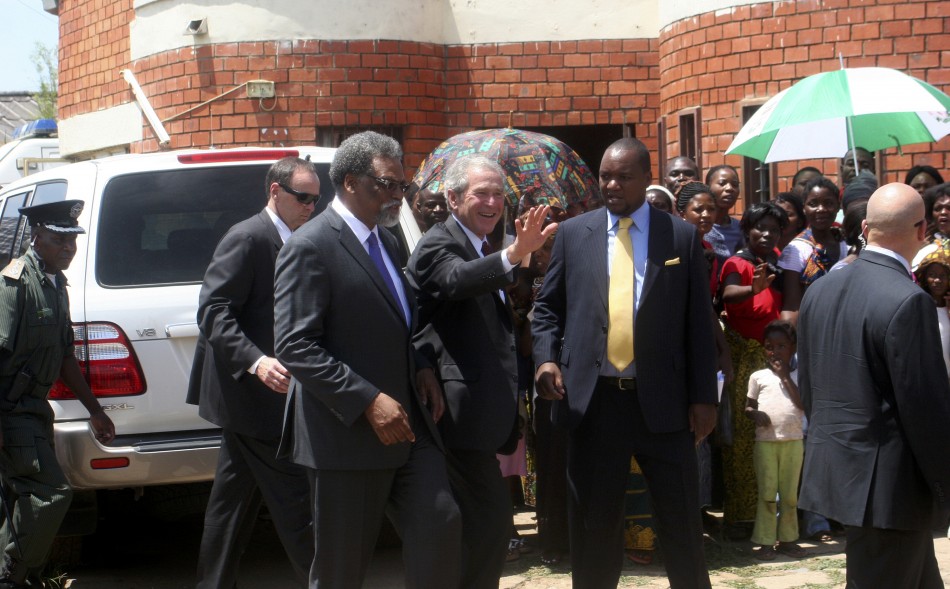 The Bush family is continuing its health awareness African trip despite Amnesty's international calls for the former President's arrest over human rights violations.
The former President, his wife, daughter and the rest of the US delegation were first welcomed by a traditional dance troop upon their arrival at the KK International Airport in Lusaka, so Amnesty's call is set to be left unanswered for now.
They were also greeted by Zambia President Michael Sata, First Lady Christine Kaseba, Chief Justice Ernest Sakala, and other ministers and diplomats.
Bush who visited Tanzania before arriving in Zambia is also expected to visit Ethiopia.
The trip is aimed at raising awareness about cervical and breast cancer and HIV/Aids.
However, Thursday, Amnesty international called on Bush' African hosts to arrest the former president for violating international torture laws.
"All countries to which George W. Bush travels have an obligation to bring him to justice for his role in torture," said Amnesty's senior legal adviser Matt Pollard.
"International law requires that there be no safe haven for those responsible for torture; Ethiopia, Tanzania and Zambia must seize this opportunity to fulfil their obligations and end the impunity George W. Bush has so far enjoyed."
"Amnesty International recognizes the value of raising awareness about cervical and breast cancer in Africa, the stated aim of the visit, but this cannot lessen the damage to the fight against torture caused by allowing someone who has admitted to authorising water-boarding to travel without facing the consequences prescribed by law," the group said in a statement.
Under George W Bush the US government used water boarding, a technique which simulates the sensation of drowning, on detainees suspected to have been involved in the September 11 attack on the Twin Towers in New York in 2001.
© Copyright IBTimes 2023. All rights reserved.