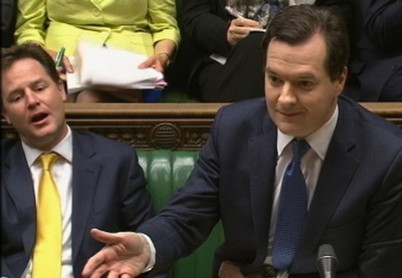 Thanks to a series of other big events, notably Nelson Mandela's death, chancellor George Osborne's autumn statement got precious little media coverage after the first day. But some of the fallout is finally starting to land, and it is coming down on Nick Clegg.
One of the most toxic elements appears to be Osborne's attempt to lay a massive political trap for Labour by setting out his tough four-year austerity package in a "charter for budget responsibility" and putting that to a Commons vote just before the election.
If Labour refuses to vote for it, as shadow chancellor Ed Balls has indicated, the chancellor will use it as a weapon in his campaign to suggest that Labour is just as reckless and profligate as ever.
Balls may well be able to wriggle around this one by coming up with a wheeze of his own before then, but Liberal Democrat deputy prime minister Nick Clegg appears to have no way out and may well become collateral damage.
He has signed up to the proposal and, in doing so, has further stirred up the rumblings of discontent from within his own ranks as party members claim he is writing the next election manifesto as he goes along, and to the Tory tune.
They believe his decision undermines the party's existing commitment to fighting the poll on its own terms and would make a coalition with Labour after the election virtually impossible.
There has long been a deep fear amongst some LibDems that Clegg is preparing for the possibility of another ConLib coalition after the election. He knows there is no way his party could do a deal with Labour so long as he was still leader and his critics fear this latest decision is evidence he accepts that reality and is putting himself in a better position with the Tories as his only possible way of maintaining power.
The concerns have bubbled to the surface in remarks from the head of the Social Liberal Forum group, Prateek Buch, which is said to support Vince Cable, the man most routinely seen as a pro-Labour replacement for Clegg.
Writing in the Independent newspaper, he said: "Should Clegg sign up to Osborne's plans...he'll have to answer not only for what the charter commits the nation to, but for what his party stands for if not a distinctive vision on the economy."
He said the rolling austerity programme would "have utterly devastating consequences on already-stretched public spending," adding: "All this would be fine if it were just the Tories' chief election strategist plotting in his elaborate garden shed.
"But this vein of thinking risks inflicting real damage between now and 2015, and makes it even less likely that millions who have missed out on the recovery will feel any gain."
Meanwhile, as Clegg faces internal criticisms that he is playing the Tory tune, the prime minister is suggesting he has had enough of coalition and had a "little black book" of policies the LibDems had blocked in power but which he was eager to implement.
As an aside, that is probably the same list the Lib Dems will use to show how they stopped the worst excesses of a Tory government.
"Because of what I see as the problems facing Britain, and what I want to do next as Prime Minister, I feel very passionately that I want single party government," Cameron told the Spectator magazine.
No great surprise, perhaps, he has to say that and he might even mean it. But as he moves towards the election there will be much more of this distancing, from both sides. But, Clegg's critics claim, their leader has already surrendered the key economic policy.
Osborne's trap seems to have snapped the wrong prey.