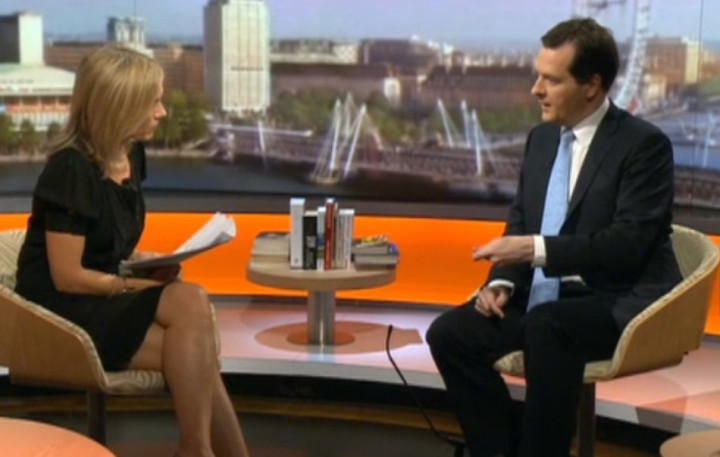 The Ministry of Defence will be forced to cut the number of civilian staff it employs as part of George Osborne's spending review this week, the chancellor said.
Osborne said the economy was out of "intensive care", but insisted Britain must stick to his strategy of attempting to deal with the deficit.
"I think we are moving from rescue to recovery," said Osborne, but warned: "There certainly is a chance of relapse if we abandon our economic plan."
Osborne has pledged to deliver £11.5bn of cuts to Whitehall departments in his spending review for 2015-16 on Wednesday, though he is also expected to announce investment in infrastructure projects, including roads, railways, education and science.
Speaking on the BBC's Andrew Marr show, Osborne confirmed he had finalised the defence budget with defence secretary Philip Hammond.
"I've settled with the defence department. Many people thought that was going to be one of the biggest challenges. The civilian head count is going to be reduced.
"There will not be a reduction in military capability. We will not reduce the number of sailors, soldiers and airmen. In fact, we will be able to spend more on cyber, which is the new frontier in defence."
The cuts to civilian staff come on top of previous reductions in military and civilian staffing, as the government attempts to reduce the budget deficit.
Osborne also announced that £10m a year would be made available to help veterans injured in recent campaigns and their families. This would come from fines imposed for the Libor bank interest rate-fixing scandal.
"We can do this in part because we're using the money we've taken off bankers involved in the Libor scandal, so the people who demonstrated the very worst of British values in the City are now supporting those who demonstrated the very best of British values - our soldiers who gave so much to defend our country."
The chancellor said he had yet not reached a deal with Business Secretary Vince Cable for his department, but added that he was "confident we are going to do this in short order".
"It's not a massive argument," said Osborne. "We are arguing about small details, not the big picture."
Shadow chancellor Ed Balls said the government should do more to boost the economy and achieve growth to avoid the need to make cuts.
Balls said he expected to "inherit a big deficit" after the next general election in 2015.
He urged the coalition to spend an extra £10bn on infrastructure projects before then, adding: "I fear we could be in for a difficult few years."
Labour leader Ed Miliband has ruled out reversing Osborne's cuts should his party come to power at the next election in 2015.