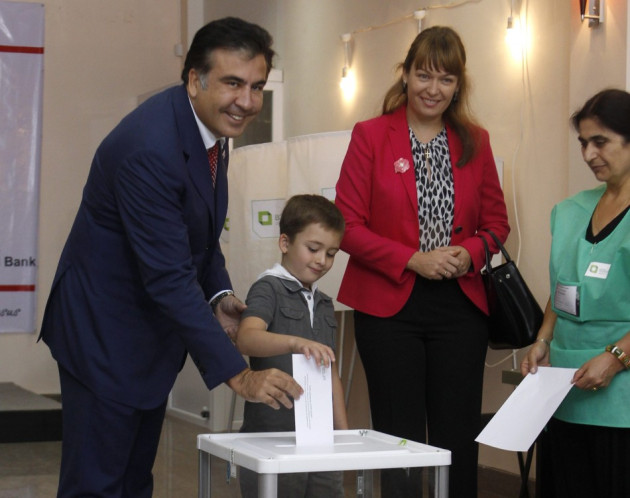 Georgia is going to the polls to elect a new parliament to be headed by either the richest man or a scandal-tainted president.
Billionaire Bidzina Ivanishvili is challenging incumbent president Mikhail Saakashvili in what is billed as one of the most crucial elections in Georgia.
Saakashvili charges that once his opponent wins the election, Russia will automatically dominate the scene in the former Soviet Republic. The present government is more inclined towards the West.
Both the leaders seem to want EU and Nato membership for Georgia, while Ivanishvili also seeks to smoothen the country's relations with rival Russia.
On the eve of voting day, the president said on state television: "Tomorrow, our enemy has its last chance to turn us off our path of independence. But I am confident that tomorrow our freedom-loving nation will take the ultimate and decisive step towards liberation from the pincers of the conqueror and towards integration into the house of Europe."
Saakasvili's second term as president ends in 2013 and under the constitution he cannot contest again.
He asserted: "Our country's fate is being decided -- not only for the next four years, but for the next decades."
Saakasvili's reputation has been sullied in recent days by a prisoner-torture scandal on which the opposition party is trying to capitalise. Video aired on television recently showed prisoners being sodomised with broom handles by jail officials. The torture revelations triggered protests across the country.
The elections are being monitored by observers from the Organisation for Security and Co-operation in Europe (OSCE).
Fears of poll violence are running high. The opposition has been accusing the ruling party of rigging the voting machines and has threatened to launch protests if free and fair elections are not held.
"This regime cannot be the leadership of our country. This system should collapse," Ivanishvili said during his campaign.
Both Saakasvili's United National Movement and Ivanishvili's Georgian Dream coalition have attracted huge crowds making it difficult to predict the winner. Among the 3.6 eligible voters, a large number are still reported undecided.
In the outgoing parliament, the president's ruling party has 119 of the 150 seats.