Germanwings A320 plane crash: 'Explosion and smoke' before Airbus plunged into French Alps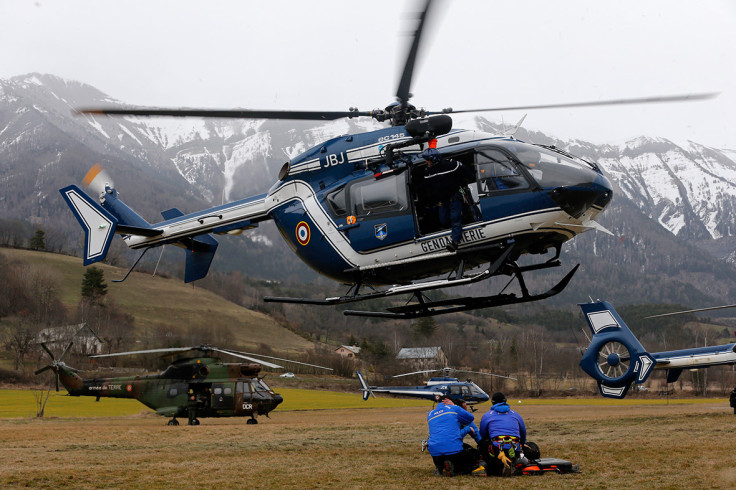 Witnesses told the French Air Force they heard an explosion and saw smoke coming out of the doomed Germanwings' A320 passenger plane shortly before it crashed into the mountains near Digne, southern France, IBTimes UK can reveal.
A helicopter pilot in the French Air Force based in Orange, 30 minutes away from the site of the crash, told IBTimes UK witnesses in the crash investigation told him "they had heard an explosion and seen smoke".
While the French authorities have not confirmed these accounts, the pilot confirms the French Air Force has received a number of corroborating witness testimonies.
The pilot also confirmed that debris was found upstream from the crash site - which he said confirmed the fact that the piece of fuselage had "been detached from the aircraft before impact".
"The search zone is quite localised, but a piece has been found upstream, which is a bit unsettling," the pilot said from Orange.
While the French authorities have allocated 210 Gendarmerie officers from several departments and nine helicopters for the rescue operations, two of the Orange squadron - one for rescue purposes, the other for air policing - to make sure small independent planes would not fly over the site - were sent over to the crash site on Tuesday 24 March.
A Lufthansa vice president says the company is treating the crash of a Germanwings jet in France that carried 150 people as an accident for "the time being."
Heike Birlenbach told reporters in Barcelona that for now "we say it is an accident. There is nothing more we can say right now."
© Copyright IBTimes 2023. All rights reserved.