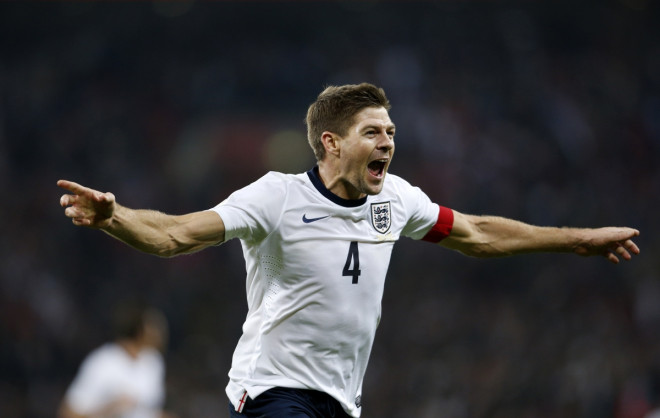 Liverpool captain Steven Gerrard has insisted that he won't let the slip against Chelsea, which cost Liverpool the title, influence his career.
Gerrard slipped in Liverpool's Premier League clash against Chelsea at Anfield which allowed Demba Ba to pounce on the ball and score in what turned out to be the winner for the Blues. The loss allowed Manchester City to close in on the Reds and eventually lift the league title.
Liverpool have managed to make their way back into the Champion League after a five-year-long wait but Gerrard's slip banished any hope of the Reds securing their 19th league title in over 24 years. However, the England international is confident that he can put that behind him and concentrate on the World Cup next month.
Gerrard scored 13 goals and assisted 13 this season for the Reds and will be a prime asset when the Merseyside club resume their participation in Europe's biggest tournament. Liverpool finished the league in second position, two points behind Champions City who secured the title on the final day of the season.
"It was unfair, of course it was, because of the timing with three games to go. It's cruel but that's football, that's life. I can't feel sorry for myself," Gerrard said.
"I haven't seen it [again]. Is there anybody who hasn't slipped at any time in their life? The difference is I did it at a bad time and at a bad place, at a bad moment.
"If I'd done a bad back-pass, scored an own goal or done my job wrong it would have really beaten me up for a long time. I keep saying to myself: how, where and why? There are no answers because it was a slip.
"If I had made that mistake when I was younger — for example, when I scored that own goal against Chelsea [in the 2005 League Cup final] when I was around 23, that killed me for a long time.
"I put myself under an awful lot more pressure then. That's not to say I won't put the same pressure on myself to make up for this one but I've learned to cope better with setbacks through age. I don't like making big mistakes at important times. I've made more than a few through my career but, as a player with experience, you learn to deal with them that little bit better the older you get.
"Yes, it hurt a lot — not just the slip, more letting the title slip towards the end because we'd come so close and had a terrific season. I was disappointed for all the lads, for all the supporters and everyone at the club that we couldn't hang on and do it," he concluded.