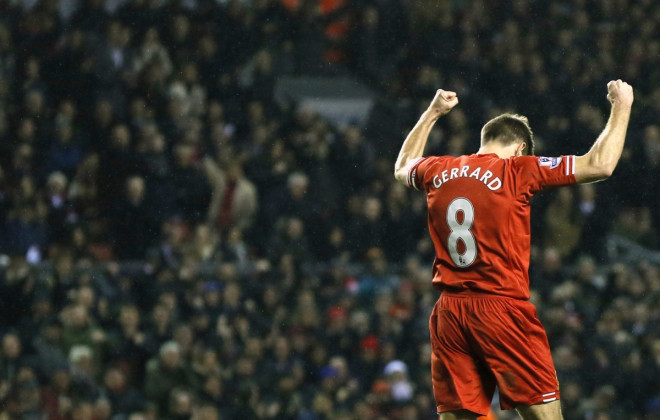 Liverpool captain Steven Gerrard has said the 2-1 victory over West Ham on Sunday has proved they are capable of challenging for the Premier League title.
Brendan Rodger's side regained the Premier League leadership after Gerrard scored two penalties to secure their ninth successive league victory.
Gerrard netted the opener and even though Guy Demel equalised minutes after, another Gerrard goal in the second-half gave Liverpool the three points just before their crucial match against Manchester City next Sunday.
"It was a good test of our character. We needed to prove today that we're capable of fighting for this title and I thought we did it terrifically well," Gerrard told the Liverpool official website.
"It's hugely satisfying looking back on the game, especially with the equaliser going against us. It was a very tricky game today coming up against a Sam Allardyce team, we knew what to expect and I think we got a bit more than we expected."
Gerrard was especially pleased with Liverpool's reaction to Demel's equaliser.
"I think if you go back a couple of years, you would have found a side that would have felt sorry for themselves and sulked and that would have affected them in the second-half," he explained.
"But the manager was fantastic - he told us to forget about it and that there was nothing we could change. He asked us all for 10 percent more."
The Liverpool midfielder also heaped praise on his teammate Lucas Leiva, who replaced Philippe Coutinho in the second-half and provided Jon Flanagan the assist which led to the second goal.
"Lucas deserves a special mention. I think there was a lot of pressure on him today - the Brazil coach was here to watch him. He hasn't played much of late, but he's come back and worked his socks off to get fit," Gerrard added.
"The ball he played for the second goal - people have been raving about Coutinho all year and the passes he has made - but for me, that was right up there with Brazil's best. I think that helped us go on and get the win.
"So it's great credit to Lucas and I think it shows that in this squad now we have a bit of everything - a bit of class, a bit of skill in Luis Suarez, Daniel Sturridge and Coutinho. But we've also got some steel. We have lads here who want to roll their sleeves up and dig in. That's what we did today."
Gerrard scored his 173rd goal for the club – his 13th this season - surpassing the goalscoring achievements of another Liverpool great Kenny Dalglish.
"Obviously the goal tally has been helped a lot by penalties, but you've still got to have the nerve to step up and take it. The second one was a very nerve-wracking penalty. It was similar to the one against Fulham. I'm just grateful that I could hit the back of the net, but I think it was all about the three points today and what the lads went through to get it," Gerrard added.