Once upon a time there was disco. Then there was DJ Kool Herc. Then there was hip hop. Sounds simple, right? Not quite. Behind the birth of every creation, sound, culture – or anything for that matter – there's always various accounts of how it was birthed, various parties who lay claim to starting it, and various stories surrounding its conception. The story of hip hop has always been pretty black and white; it was started by Clive Campbell (Kool Herc) in The Bronx, New York in the early 1970s when his DJ style of spinning two of same record to elongate the break caught on and was introduced publicly when Herc hosted the first hip hop party on August 11th, 1973.
The thing is there are those who dispute this. As previously, explained there are always various accounts, especially when it comes to something as vast as hip hop culture. So how do you conquer this? How do you tell the correct story as close to the truth as possible? For Baz Luhrmann, critically acclaimed writer, director and producer responsible for movies such as Romeo + Juliet, Moulin Rouge and The Great Gatsby, he rounded up all of the key figures involved in the beginnings of hip hop and had them tell their story in order for him to combine the accounts and create a new drama by the name of The Get Down.
Getting an exclusive first look at the new Netflix show, IBTimes UK were invited to watch the first episode at an event hosted by creator Baz Luhrmann, supervising producer Nelson George, and singer/songwriter Michael Kiwanuka, who appears on the show's soundtrack.
Streets on fire
Set in 1977 to the backdrop of a broken New York - one rife with gang violence and insane levels of poverty, especially in the black community - the attention to detail in The Get Down is meticulous from the very start. Whether it's the burning buildings set on fire by local gangs - a ploy set in motion by landlords in order to claim on the insurance - or the pop culture references - the opening scenes see the main characters discuss going to see Star Wars at the cinema - it seems like everything is thought of in order to recreate the exact setting that hip hop was birthed out of.
Dipping in and out of various locations throughout, viewers are invited on a journey into nightclubs (Les Inferno), record stores, stairwells, small family apartments home to five or more, abandoned warehouses, demolished neighbourhoods and more, and that's just the first episode. Rarely leaving a location untouched, the combination of real footage − borrowed from documentaries such as Rubble Kings − and trendy map graphics gives it a real authentic feel that channels cult classic movie The Warriors.
The journey begins
Narrated by Nas, the story follows a group of teenagers doing what teenagers do - getting into mischief, chasing girls and trying to get into clubs. Lead by Ezekiel aka Books (played by Justice Smith), he's a poet who finds himself tangled up in a love story with singer Mylene (Herizen F. Guardiola), whose disapproving pastor father calls disco the devil's music and likes to show his superiority in the form of a butt whooping every now and then. With the rest of the crew consisting of Ra-Ra, Boo-Boo and Dizzee (Jaden Smith), collectively they experiment with what would later become the four elements of hip hop - rap, DJing, breakdancing, graffiti.
Witnessing the birth of a culture right before their very eyes, the crew are drip fed an education with help from a series of characters. Shaolin Fantastic - played by Shameik Moore of the movie Dope - is an energetic and charismatic kung-fu enthusiast who is tasked early on with finding a specific record for Grandmaster Flash, the same record that love drunk Books desperately seeks in order to win over Mylene. Papa Fuerte (Jimmy Smits) is a latino Tony Soprano, walking the line between congress and the streets through regular meetings with the mayor whilst also stamping his authority on the hood. Then there's Miss Annie, her son Cadillac and DJ Malibu, who all play a vital role in one of the main club scenes that begins with disco, dancing and drugs and ends with bloodstained disco balls.
While quietly examining the four elements throughout the extended first episode, The Get Down's main narrative takes shape towards the end when viewers are introduced to Grandmaster Flash and Cowboy (of The Furious Five). The scene shifts the dynamic from glossy disco to gritty hip hop, as Books and the crew are first introduced to rap by the duo. After a little encouragement, Books is thrown into the mix and has to put his poetry skills to good use. This in turn kickstarts another storyline involving the Funky 4 +1 (dramatised as Fantastic 4 +1).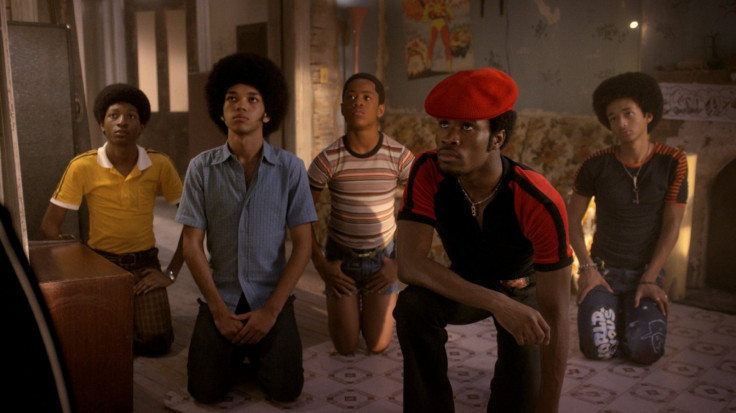 Baz's vision
Colourful is one of the best ways to describe The Get Down and it's no surprise considering Baz Luhrmann is the man at the helm. His resume speaks for itself. Moulin Rouge is a masterclass in colourful cinema with a hard-hitting storyline that touches on every human emotion. The Get Down is Moulin Rouge with two turntables and a mic. Flamboyant, daring, and occasionally cheesy, it contains all of the elements to grip an audience and have them fall in love with its characters.
But Baz didn't do it alone. With help from hip hop historian Nelson George, Grandmaster Flash, Nas, Kurtis Blow, as well as his wife and famed costume designer Catherine Martin - who transports viewers back to a time when bell bottoms and painters caps were in style - and many more who contributed to the story of hip hop's conception, The Get Down is set to be one of Netflix's most accurate and successful original shows.
Musically it's exceptional. Instead of including a selection of records from 1977, The Get Down includes a stellar soundtrack of mostly original content. Aside from new music from Raury, Nas, Jaden Smith, Zayn, Miguel, Christina Aguilera and the show's cast, the score itself features fiery backdrops laced with latin music, funk, disco and of course hip hop, with contributions from Elliott Wheeler, Grandmaster Flash and Nile Rodgers.
Verdict
Emotional, educational, fiery, dramatic, these are all words that can be used to describe the first episode of The Get Down. For hip hop fans it's iconic. For television fans it's entertaining. Watching the blending of elements that came together to help form one of the most influential cultures on the planet is a beautiful thing, especially through the lens of Baz Luhrmann.
The Get Down is available on Netflix August 12th.