Netflix has consistently brought the big guns out since it started producing original content back in 2012. The multinational entertainment company − which has over 83 million subscribers as of July 2016 − is constantly adding new and original content to its extensive library. With groundbreaking shows such as political drama House of Cards and Marvel's Daredevil and Jessica Jones, there seems to be no stopping its rise to becoming the world's number one entertainment outlet.
The latest show to sign on the dotted line for Netflix is The Get Down, a mythical tale of how a New York on the brink of bankruptcy gave birth to hip-hop culture and its four key elements: rapping, breakdancing, DJing and graffiti. Written and directed by Baz Luhrmann (Moulin Rouge, Romeo + Juliet, The Great Gatsby) with input from key figures like hip-hop historian Nelson George, famed costume designer Catherine Martin, rapper Nas, and iconic DJ Grandmaster Flash, The Get Down is a music-driven semi-autobiographical drama series set in New York in 1977 that chronicles the rise of hip-hop and the last days of disco – told through the lives, music, art and dance of the South Bronx kids who would change the world forever.
Due to premiere on Netflix on 12 August, the show is hotly tipped. With a soundtrack that includes music from the likes of Nas, Miguel, Christina Aguilera, Zayn, Michael Kiwanuka, Leon Bridges and Raury, it will be essential viewing for fans of music and great television drama alike. Talking to IBTimes UK, one of The Get Down's stars, Jaden Smith, and supervising producer Nelson George discuss how accurate the show was in relation to the early beginnings of hip-hop, what it taught them about the culture and what attracted them to the project.
A welcome interruption
Before the first question is even asked a familiar voice is heard approaching from the back of the room. Sporting a muscle tee and shorts, the goofy tone – and mannerisms – belongs to Will Smith. Deciding to drop by and visit his son at work, after a few hugs, handshakes and introductions the opening question gets rejigged and fired at the man who will be back on the big screen later this week as Deadshot in the movie Suicide Squad.
Asked whether or not he offered his son any advice going into filming The Get Down – considering his own rap career started over 30 years ago – he simply replies: "We kinda lived it. The house was just kinda like that." Like the proud father he is, the smile on his face says it all when explaining how Jaden would call him from set excited because Kurtis Blow was there. Before he's ushered out the room by his team Will admits to getting a bit of a ribbing from his son for wearing a crop top in one episode of The Fresh Prince of Bel Air. "Yeah, we had a conversation about the [early hip-hop] fashion stuff that was a bit off, but I'll let him tell that story," he says with a laugh.
Picking up where his father left off, Jaden breaks down the fashion elements of The Get Down, using his character Dizzee as an example. "Back in those times people were trying very different things," he explains. "Like even with Dizzee, he was putting all different types of buttons and different things on his vest, and he paints his pants and does all different types of cool stuff. So that's just some of the cool fashion bits [in The Get Down] that you see from back in the day."
Weighing in on fashion for a brief moment, Nelson adds: "What was interesting too is that there were no brands designed for kids – kids were taking brands and re-conceptualising them. Like the painters cap that breakdancers were wearing, they turned it into a fashion item."
I got a story to tell
Starting off with the three characters who later became Shaolin, Books and Mylene, the rest of the cast was built around them. Nelson George, the man responsible for producing movies such as Strictly Business, CB4 and Top Five, says the cast just kept on growing as they realised they wanted to represent every part of hip-hop.
"We started meeting with more people and toying with the foundations of the characters and that's how they evolved," he explains. "Dizzee's character wasn't even a part of the original conception but it felt like we needed to deal with the world of graffiti. We had already set up Ra Ra as this Russell Simmons prototype that sang. We needed someone else so Jaden's character was created to service the storyline that focused on graffiti – this was so crucial. So that's how things evolved, we weren't really concerned with dealing with this or dealing with that."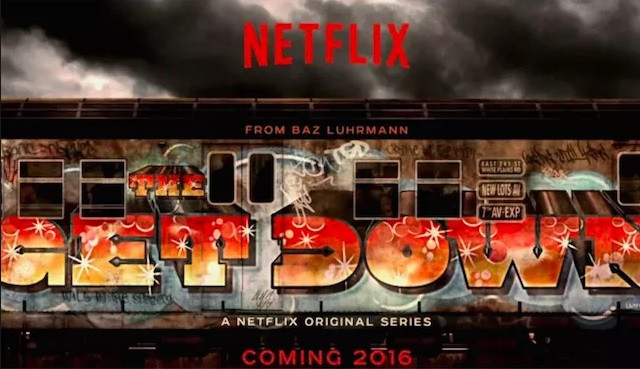 With the show being semi-autobiographical in the sense that it depicts the birth of hip-hop, what was fact and was fiction? "Ok, so Shaolin doesn't exist, right?" Nelson asks. "The record Books hunts for doesn't exist. But the search for rare vinyl was everything. So we just took something that was real and used it as a plot point. Everything we did in The Get Down is based on something. There's nothing that's totally made up – it's all based on conversations we had with Kool Moe Dee, Kurtis Blow, Grandmaster Flash and Kool Herc. We sat with a whole load of breakers and graffiti artists and out of their life experiences we created this package."
Epic attraction
For Jaden Smith, the multi-talented creative with a pretty impressive resume for an 18-year-old, The Get Down was a passion project he felt was going to impact culture in a major way. "What attracted me was the diversity that the show had and the ensemble cast it had," he explains. "And also I knew that it would definitely impact culture in a crazy way because of how visionary Baz is. What he was trying to tackle was very important to me also so I just wanted to be a part of it. It sounded great: music, dance, art, the origin of hip-hop and the death of disco, it literally sounded epic."
Switching topics, Jaden is asked about a recent interview he did where he said he felt like the world was going to bash him no matter what he does. Does he feel The Get Down will help bring the naysayers closer to the Jaden Smith brand? "I feel like anyone who takes time out of their life to say anything about me is already a part of the Jaden Smith brand," he says with a smirk. "So I feel like The Get Down will bring people into my brand as well, but the people that already say things about me, those are my biggest supporters."
Commenting on the pressures of being the child of famous parents, he adds: "I don't really think about it. I have a normal dad – as you just saw when he just walked in here – I don't think of him any other way than besides a dad that's normal. No one is perfect so I don't really think I am living up to that much. I just do what I like to do. It's things like this that makes me really proud of the things I am doing, like 'wow, this is going to affect culture for years to come.' You know what I'm saying?"
School of hip-hop
Hip-hop has always been a vast subject to cover, and with so may pieces to the puzzle it's no surprise to see it being taught in many schools across America. So being that Jaden was born in 1998, did he learn a lot from starring in The Get Down or was he already equipped with a broad knowledge thanks to his father's stories?
"I learned so much more," he exclaims. "Not just the learning of it on paper but the actual doing of it. It's one thing to learn about how people rapped and it's another thing to rap how the people rapped back in those times with Kurtis Blow. And it's one thing to learn about graffiti and another thing to spray paint with Lady Pink. Those are some things that we were blessed to do and that made for some of the best times of my life. My knowledge is deep and it's deeper from working with Rahiem from The Furious Five, you know what I'm saying? Working with Flash. Learning about Kool Herc. All of those things just deepened my understanding of hip-hop."
The Get Down premiers August 12th on Netflix.
---
Will Lavin is a Hip Hop Music & Lifestyle Specialist of 10 years. A 2015 IMC Award winner, he's written for publications such as VIBE, XXL, Complex and Blues & Soul. He's worked with artists such as Chaka Khan, Timbaland, will.i.am. and Chris Brown. He also runs illwill.co.uk.
---