WWE Raw Reflections: Finn Balor can handle the banter with Seth Rollins
Unsurprisingly, Randy Orton didn't have much to say to Brock Lesnar.
The WWE Raw headlines, with spoilers:"Hip hop hobbit" Enzo Amore and Big Cass look to be heading for a showdown, possibly at SummerSlam, with Kevin Owens and Chris Jericho; Finn Balor withstands unlikely cinematic references from Seth Rollins in his most fired up, high profile speaking segment on WWE TV so far; Roman Reigns' beard is now at a length that suggests he's been a bit down for six weeks or so, but he seems to be locked into a match with Rusev for SummerSlam; The New Day should probably stick to 'Rock, Paper, Scissors' to settle disputes, the fruity scallywags; Jinder Mahal has returned to WWE; and Brock Lesnar got dropped by an #RKOOuttaNowhere... but he got back up.
Week two on the programme also featured Brock Lesnar, Randy Orton and the Shining Stars on the same bill, and Finn Balor looks very much at home... nearly all of the time.
In a promo-heavy show, Balor stood out. There were moments where Seth Rollins threatened to eat him up, having the freedom of an established character and villain to be a little freer with himself.
In all fairness, Balor did seem a little physically stiff. In a similar manner to how he poses for pics with fans and for social media with his arms rigidly fixed to his sides, his gesticulations here were also somewhat inflexible - as if he were hitting his acting cues by pointing right at them and with sweeps of his arms.
Whether that was real life jitters or a representation of the character's inherent modesty being overwhelmed by his new headlining status depends whether you feel the man behind the Balor moniker is especially comfortable with the acting aspects of his turn. He might, I think - as most wrestlers suggest - find it more liberating in portraying an antagonist, escaping the occasional earnestness detectable in his character.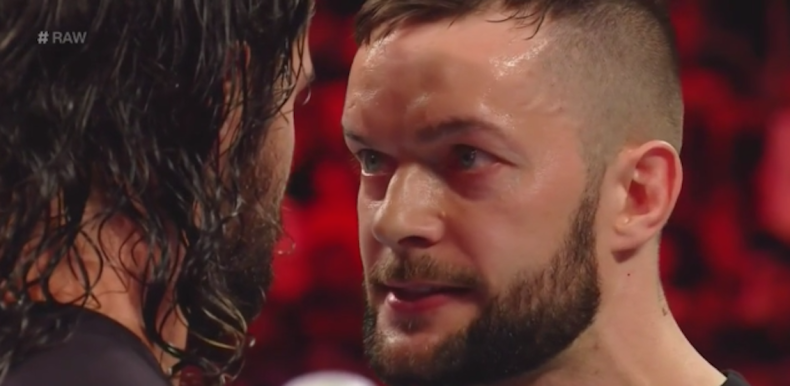 Still, despite Rollins' slightly odd tangent about film remakes, specifically Star Trek and Ghostbusters ("I'm like the OG Bill Murray, and you're kinda like Melissa McCarthy"), Balor found the gears to change up the intensity much more smoothly than balancing icy disdain with being likeable.
But there may also be a regular requirement for 'Craicwatch' in this column, as it appears Balor's scripts may have Oirishisms laid on thicker than a Guinness trifle. Last week there was some tame smack with Roman Reigns about the Irish inventing luck and this week there was a pronounced "da man" and the most beloved signifier of Celtic heritage in WWE, throwing the odd 'r' into the American "a**" to produce "ar**".
However, Finn's Raw entrance remains nothing less than superb - and my very well be the best thing to come out of the entire brand extension draft business.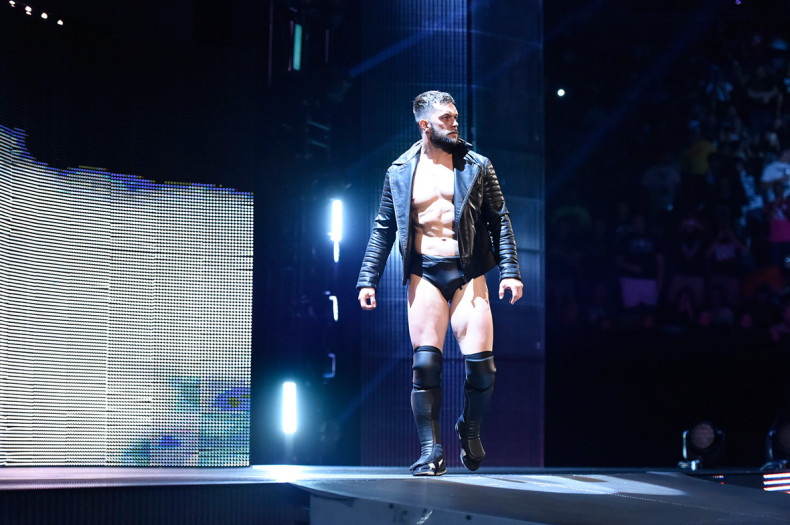 Dig of the night
Sasha Banks isn't quite convincing as 'The Boss' just yet, but despite flubbing the odd word early on in her show-opening segment the new champ came back strong with a piercing verbal jab to rival Charlotte, who had been wittering about taking home the prom king and not being able to get him to put a ring on her finger. It wasn't very Beyonce.
Banks responded: "One night stand? Sweetheart, you're the daughter of Ric Flair. If it wasn't for a one night stand, you probably wouldn't be standing here. Woo!"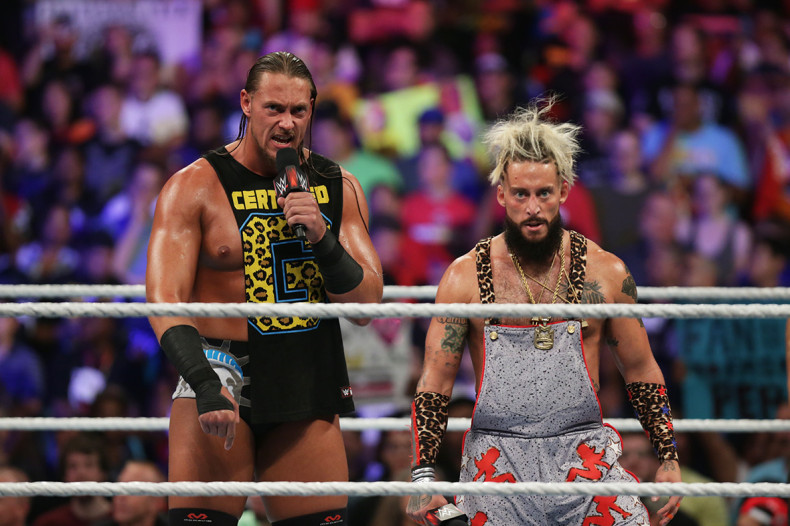 Honourable mention: Her tag partner for the night, Enzo Amore to Chris Jericho - "Listening to you speak, time passes like a kidney stone." But Enzo also suggested that thinking before he speaks is like "for me to wipe my hind end before I poop," so he's denied the top spot for the unnecessary, and quite confusing, mental image.
Line of the night that makes zero sense, even with the picture below for context
Xavier Woods: "Unfortunately for me, I picked the unmatching piece of fruit, meaning I lost."
We've all been there.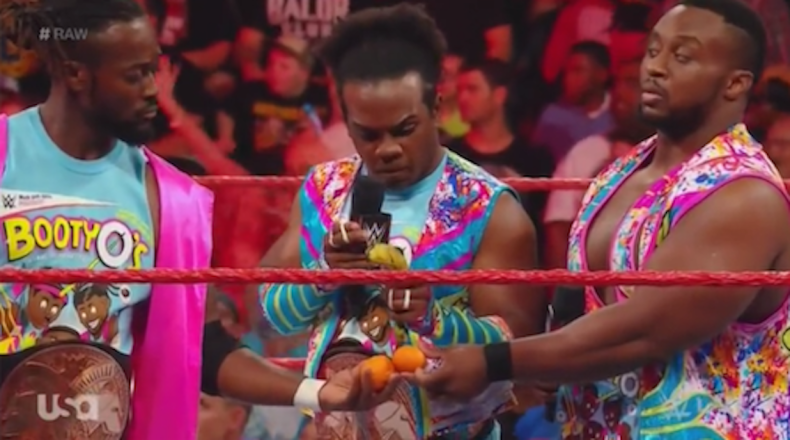 If you only watch one match, watch: Seth Rollins vs Sami Zayn
Highly unlikely this sparky clash will feature in any match of the year shortlists, but a cut above the rest of the action on the show. Constant comparisons on commentary between Zayn and Balor, as an apparent kinship between the former NXT champs (a title Rollins has also held) made it clear Sami was going to be the fall guy.
And rightly so - as Rollins indicated, he works for everything he gets - nothing is handed to him on a plate. He's determined to beat Balor for this debuting Universal title by demonstrating he is simply the best - even though he's supposed to hear boos from the crowd.
The Stephanie McMahon award for Undermining a Fellow Onscreen Character
Steph didn't show her face all that much beyond turning up at ringside for the floundering and fallout of Orton's RKO on Lesnar and a spot of backstage bants with her GM Mick Foley. She did, of course, manage to slight at least one character for very little reason other than she can.
As Olympic ambassador Mark Henry, inspired by Foley's decision to grant him 'one last run' and a title shot against Rusev, expressed how he was going to bring WWE's US gold "back to America... because that's what I do!", Steph apparently endured some flecks of spittle in her personal space. Sold it like the big guy had medal-winning halitosis.
Nobody mention the thing about the thing...
Y'know... What Randy Orton said about Brock. Or what's been going on with Brock.
In fact, Paul Heyman, just keep it short and then Randy will end the segment suddenly with a...