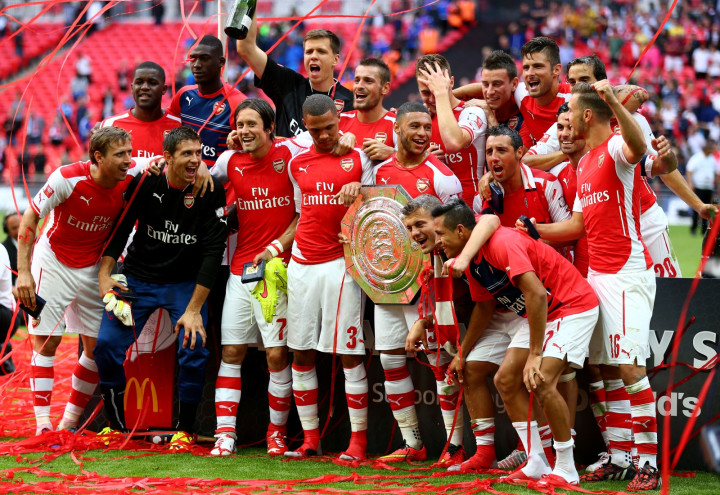 Former Arsenal star Giovanni van Bronckhorst says the Gunners have a strong squad to win the Premier League title this season.
The north London club have added several new faces to their squad and the list includes the likes of Alexis Sanchez, Mathieu Debuchy, Calum Chambers, David Ospina and Danny Welbeck.
The England international arrived from Manchester United on the final day of the transfer window after he was informed by Louis van Gaal that his services are no longer required at Old Trafford.
Arsene Wenger saw his side end their nine-year long trophy drought at the end of the last season as Arsenal went on to win the FA Cup by defeating Hull City in the finals. The Gunners also defeated Manchester City in the Community Shield earlier in August.
Van Bronckhorst says the Gunners are in the mix along with other top Premier League teams to win the title during the 2014/15 season.
"Arsenal have a good enough squad to win the Premier League title. They are one of the teams who are capable [of winning the league]. It's a major boost for Arsene, and for all involved, to be in the Champions League," Van Bronckhorst told talkSPORT.
"The experience of the German players, who became world champions this summer, is also good for the team."
"Danny Welbeck wasn't in Man United's plans but he's a very talented striker. He's very experienced and has played for England a few times. Arsenal's squad is big and very talented," he added.
Meanwhile, Arsenal striker Joel Campbell claims the summer World Cup with Costa Rica was the best experience of his life so far. The 22-year-old was one of the star players for his side as they made history by reaching the quarter finals of the tournament.
"Playing at the World Cup was the best experience of my life so far. The World Cup is something unique. My team-mates and I worked really hard and made history for our country. We are really happy about that," Campbell told Arsenal's official website.
"What we did was a milestone for us. We wanted to make history, we wanted to exceed the last 16 that Costa Rica reached at the 1990 World Cup. This year we reached the quarter-finals and that will mark a turning point in our history."