GlassUp is gaining popularity among people as the device is a stylish and low priced as compared to Google Glass.
Started as a team project by Francesco Giartosio, Gianluigi Tregnaghi and Andrea Tellatin, GlassUp has finally entered its last few developing stages and is not far from being released in the markets.
GlassUp is similar in looks with Google Glass but with few internal changes. One of the major differences is that the information displayed on the right side of the frame is projected on the reflective glass instead of being showed on a separate screen.
The lenses will be slightly tinted in order to reflect the notifications on the glass clearly. The display resolution of the device will be 320 x 240.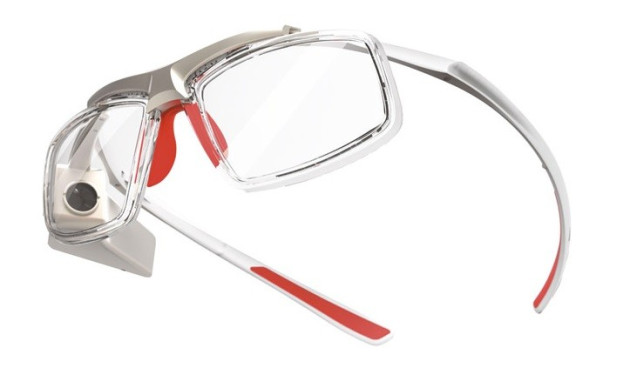 The eyewear is expected to support incoming e-mails, Facebook notifications, Twitter feeds, smartphone text messages once connected to the smartphone through Bluetooth. The device is to come for Apple iOS, Android and Windows 8 devices.
The device is to run for a day and can be charged via mini-USB. The company is still deciding on the ways how a user can switch the projector on/off via touch-pad.
"A touch-pad, with the usual controls (tap, double tap, long press, swipe vertically and horizontally), we are deciding now which ones to keep for us to on/off the projector..." states the website.
There are number of applications which are under development for the glass. The apps are related to sports, education and training, tourism and sightseeing, interpreting/subtitles, games, travelling and driving, technical interventions and notifications.
The device definitely lacks the flexibility in features as compared to Google Glass but is a potential alternative for the users. The device also lacks voice recognition technology and camera with 16 GB flash storage like that in Google Glass.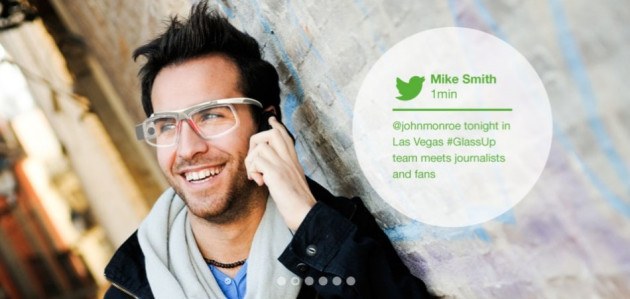 CNET reports that the Italian firm is likely to add a camera and prescription glasses option in 2014. The glass will also come in two colour variants of red/white and green/black.
GlassUp is also facing legal issues regarding the trademarks. Google Glass reportedly asked the Italian firm to withdraw its Italian trademark application in October 2012 which was four months after Google filed its trademark worldwide.
For further development of GlassUp regarding production, certification and international trademarks, the GlassUp website has a page for contributors with a goal of reaching up to £ 98,420 ($150,000 approx) as a part of Indiegogo campaign.
Various offers are available on pre-orders starting from £130 ($199 approx) till £1640 ($2500 approx). The devices will be shipped in the first half of 2014. One can pre-order it from the Indiegogo campaign page.