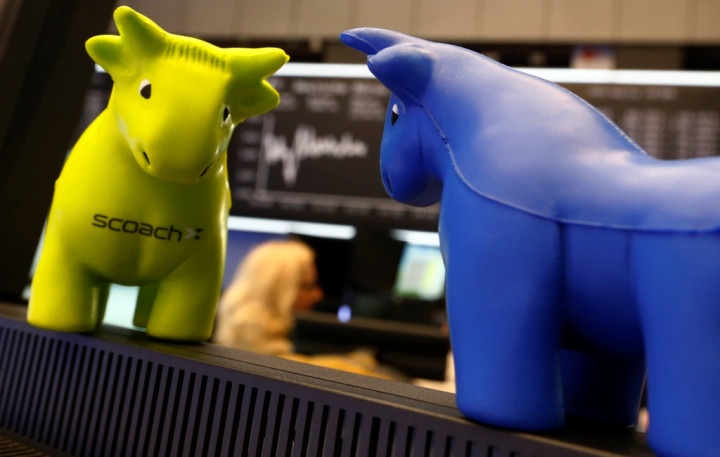 The value of global equities has surpassed the pre-crisis highs reached in 2007, on the back of rallies in Japan, Saudi Arabia, Brazil and the US, where the S&P 500 share average has logged its first close above the 2,000 mark.
This pushed the value of global equities to a record $66tn (£39.8tn, €50.1tn). Stocks were valued at $63tn at the 2007 peak, Bloomberg reported.
Shares the world over have added in excess of $2.2tn in value since 7 August, according to Bloomberg.
Japan's Topix, which has gained 0.4% this month, has bounced back from losses and is trading near its highest level since January.
Brazil's benchmark index, the Ibovespa, has gained 3.7% in the past month, led by a rally in state-run firms on speculation President Dilma Rousseff will lose her re-election bid to rival Marina Silva.
In Saudi Arabia, the Tadawul All Share Index has gained 7.65% since 3 August, with the kingdom preparing to grant international investors access to its $580bn stock market.
Elsewhere, the Stoxx 600 share average has gained 5.6% from its 8 August low despite the worsening conflict between Russia and the Ukraine.
In the US, the S&P 500, which closed at 2,002 points on 26 August, has gained 1.1% in the past month, boosted by upbeat economic data that promises a brighter future for the world's leading economy.
Analyst Take
Tim Radford, Global Investment Manager at Rivkin Securities said in a note to clients that "economic opitimism" has fuelled the "Wall Street momentum".
Radford said: "US equities again powered higher amid strong economic data and another round of positive company earnings reports.
Durable goods orders, a gauge of corporate demand for large manufactured goods, smashed estimates, coming in at a 22% increase for July versus estimates of 8%. Also adding to the optimism, consumer confidence data beat estimates, rising to 92.4."
"At the start of August investors were running scared on concerns over the US economy, interest rates and geopolitical tensions. Now that earnings season has affirmed the underlying strength of the US economy, investor optimism has completely returned. And this is all in light of an increasingly hawkish [US] Federal Reserve.
"European markets are now playing catch up to Wall Street after [ECB President Mario] Draghi affirmed his support for further stimulus over the weekend.
"The last few sessions have seen some very bullish moves across German, French and Italian markets, highlighting investor confidence in the ECB. As long as the ECB continues communicating its intention to support euro-zone economies with further stimulus, we should expect to see further bullish moves over the coming sessions, as European equities play catch up," Radford added.
The MSCI gauge of shares the worldover has surged 150% since March 2009, while the MSC Emerging Markets Index has rocketed 124%.
The European equities index has shot up 117% while the Topix has jumped 81%.