The S&P 500 breached the psychologically important 2,000 points threshold, albeit for a brief period on Monday - investors now await further rallying in the face of geopolitical pressure, US economic data releases and corporate earnings updates.
Leaders from Russia and the Ukraine are scheduled to meet in the Belarussian capital of Minsk, on 26 August, in a bid to put an end to their five-month-old conflict.
European Union foreign policy chief Catherine Ashton and the leaders of Belarus and Kazakhstan, partners in a Russian-led customs union, will also be present at the meeting.
S&P 500
The S&P 500 finished at a record high on 25 August.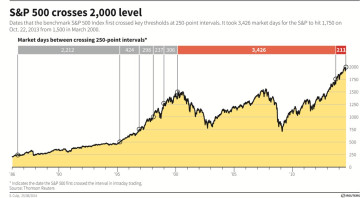 The index ended 9.52 points, or 0.5%, higher at 1,997.92, after crossing the 2,000 mark in morning trade.
The Dow finished 75.65 points, or 0.4%, higher at 17,076.87.
The tech-heavy Nasdaq finished 18.80 points, or 0.4%, higher at 4,557.35.
Tim Radford, Global Investment Manager at Rivkin Securities said in a note to clients: " ...US equities continue to power higher in the face of an increasingly hawkish [US] Federal Reserve and ongoing geopolitical tensions. This just reflects the markets approval of another strong earnings season and a strengthening US economy as highlighted by a more hawkish Federal Reserve. It seems good news is actually good news, this time around."
"I continue to think this bull market has several years to go," Steven Einhorn, vice chairman of hedge fund Omega, which manages $10.5bn (£6.3bn, €7.9bn), told Reuters. He predicted this year that the S&P 500 index will reach the 2,000 level.