Janet Yellen, who heads the world's most powerful central bank, will speak at a meeting in the US later in the day and her comments could push the S&P 500 share average past the 2,000 points mark.
Yellen and European Central Bank (ECB) President Mario Draghi are scheduled to speak at the US Federal Reserve's annual Jackson Hole symposium, at 1000 EST and 1430 EST respectively.
Yellen speech topic is: "Re-Evaluating Labor Market Dynamics."
Draghi could throw more light on whether Europe will execute an asset buying programme, particularly after the 18 economies of the Eurozone reported zero growth for the second-quarter of 2014.
Nordea Markets said in a note to clients: "After the slightly hawkish Fed minutes and ok US data, Yellen's message [on 22 August] at 1600 CET in Jackson Hole conference is followed with excitement even though the speech is titled excitingly labour market.
"While the labour market continues to improve, the continued weakness in average hourly earnings in July are likely seen as supporting the idea that significant slack remains in the labour market. Therefore the accommodative Fed policy remains appropriate. Hence, most likely Yellen's message remains rather dovish."
"We expect Yellen to remain content with normalising policy slowly until there is clear evidence of higher wage increases," Nordea added.
Tim Radford, Global Investment Manager at Rivkin Securities said in a note: "In reality, Jackson Hole should not be of much concern to investors, given the meeting is not about policy setting. But due to [former Fed chief] Ben Bernanke giving clues around monetary policy at previous meetings, the market expects to some degree that Janet Yellen may do the same and give some subtle hints around interest rates."
S&P 500
US markets finished higher on 21 August, with the S&P 500 logging its fourth successive daily gain to end at a historic high.
Expectations of dovish comments from Yellen, an upbeat labour market and existing-home sales data, boosted investor sentiment on Thursday.
The S&P 500 finished 5.86 points, or 0.29%, higher at 1,992.37 points, logging its 28th record finish this year.
The Dow closed 60.36 points, or 0.36%, higher at 17,039.49 points.
The tech-heavy Nasdaq closed 5.62 points, or 0.12%, higher at 4,532.10 points.
Radford of Rivkin Securities said: "The S&P 500 completed another v-shape reversal overnight, reaching all-time highs led higher by financials, and in particular a surging Bank of America (BAC). It seems nothing can break the broader uptrend in US equities at the moment -- investors just keep buying the dips.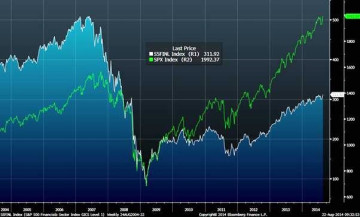 "Bank of America buoyed market sentiment following news its ongoing litigation battle over faulty home loans from the 2008 debt crisis has finally been settled, with shares closing 4.12% higher."
"...If there is going to be a sector that sees the long-term bull market continue, it could well be financials, playing catch up after underperforming the broader market considerably over the past four years. For instance, the S&P 500 Financials Index is still 38% below the highs from 2007, and as seen on the chart, has significantly underperformed the S&P 500 index since 2009. News that US financial firms are starting to leave the horrors of 2008 behind them could be the catalyst behind many of the firms returning to pre-2008 profitability. Warren Buffet thinks Bank of America will anyway," Radford added.