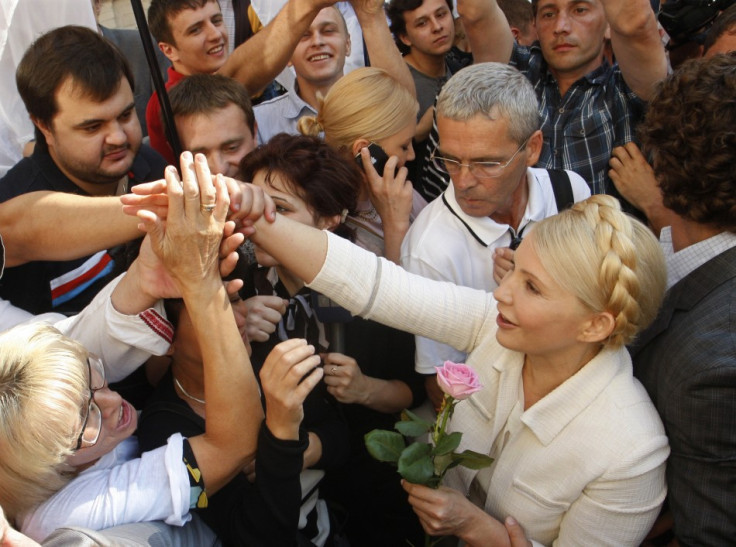 When Ukraine's former Prime Minister Yulia Tymoshenko returned to court on Monday, her supporters showed they still firmly stood behind her.
As Tymoshenko appeared, arriving to court in central Kiev, hundreds of supporters shouted her name and called for her release. Dozens of tents were set up in front of the court by her most tenacious supporters, as they did not want to risk missing the politician.
The police were deployed in large numbers as authorities were anxious the angry crowds could stat rioting.
Making sure her entrance was dramatic, the former Prime Minister yelled "Glory to Ukraine!" as the judge entered the courtroom to open the hearing while her lawyer immediately put in a request to reverse her arrest order, the AFP reported.
Tymoshenko spent the last three nights in prison after her sudden arrest on Friday, but was not in handcuffs when she arrived.
"Prison is prison but I am not going to complain," she told her supporters. "This is a test, but it is also the mission of my life, to help Ukraine become a true European state."
She arrived with an entourage that included her husband Olexander and two priests while former interior minister Yuriy Lutsenko, who is also imprisoned and on trial, was taken to court in the same van.
Tymoshenko, is on trial on charges of abuse of power over gas deals she signed with Russia in 2009, was placed under arrest for contempt of court after describing her successor as "corrupt" and mocking the judge on Twitter.
Denying any wrong doing, she has instead insisted she is the victim of a vendetta.
According to her, President Viktor Yanukovych is still reeling from the 2004 Orange Revolution and has proceeded to take revenge on the leaders of the movement.
Tymoshenko's arrest was widely criticised by the West who fear the prosecution team has been largely influenced by Yanukovych.
Yulia Tymoshenko could be sentenced to up to 10 years in jail, her lawyer Sergei Vlasenko warned.