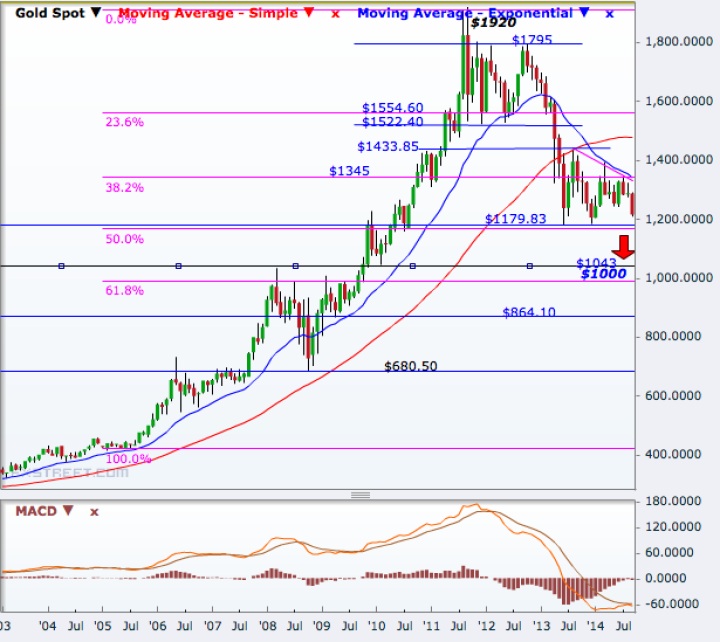 With the dollar index holding near a four-year high, the outlook for precious metals is significantly weak and has technically exposed much lower levels for the near future.
Gold is once again approaching the key support line of $1,180, which it attempted and failed twice last year - in June and December. After the rebound from the December low, the metal is poised to test $1,000.
The $1,180 support comes in line with the 50% Fibonacci retracement of the 2005-2011 rally.
With a pattern of lower highs and steady lows over the past one year, a hit of that line is considered quite likely in the near future.
The fifty-period moving average on the monthly chart has not yet turned downward but with the MACD clearly showing a bearish picture, prospects are that the metal will even close below that major support line, opening doors to $1,000, the 61.8% level.
A break of $1,000 will not see any stops until $865, but a stronger support will be $680.
On the higher side, only a break above $1,345, the 38.2% retracement, will revive the hope of a bounce-back and if that happens, then the market will look for $1,433 and $1,522 before a retest of the 2011 record of $1,920.
Silver Technicals
Now that the white metal has broken below a crucial support line, deeper levels have been exposed. The first one is $17.05 and the next $16.20.
A break below that level will lower the end of the fifty-period simple moving average on the monthly chart which has only got flattened by the recent fall.
That will signal a major bearish signal for silver and open doors to $14.63 and levels below $12.
On the higher side, the first level to watch is $18.60. Then come $19.80 and $21.50, a break of which will weaken the downtrend since August last year and open doors to $24.0.
There will still be a longer way to weaken the big downtrend since 2011 in which year the white metal touched a record $49.83.