Gold prices hit six month highs as the possiblity of western sanctions against Moscow relating to the Russia-Crimea referendum boosted the yellow metal's safe haven status.
Spot gold struck $1,391.76 an ounce in morning trade and was down 0.1% to $1,380.05 by 11:04 GMT.
US gold futures struck $1,392.60 an ounce, before trading at $1,378.80.
Traders now await the US Federal Reserve's 19 March monetary policy decision, which is expected to influence bullion prices. The world's most powerful central bank is likely to announce another $10bn cut to its asset-buying stimulus.
VTB Capital said in a note to clients: "The Federal Open Market Commission (FOMC) March policy statement on [19 March] will steal market's attention, but until then gold will trade on risk sentiment still watching Ukraine."
Commerzbank Corporates & Markets said in a note: "Gold temporarily climbed to a new six-month high of over $1,390 per troy ounce as the week began. In euro terms, gold briefly rose above the €1,000 per troy ounce mark again for the first time since the end of September. That said, there is no sign whatsoever of market players panicking after the weekend's Crimean referendum - they are clearly waiting to see how the EU and the US will react. [17 March] will see EU foreign ministers meet in Brussels to discuss further sanctions against Russia.
"If further-reaching sanctions were to be imposed, gold would doubtless remain attractive as a safe haven. As the Commodity Futures Trading Commission's (CFTC) statistics published on [14 March] evening show, the increase in the price of gold remains largely driven by speculation, especially given that physical demand in recent weeks has been somewhat subdued - with the exception of the ETF inflows. In the week to 11 March, for example, net long positions were expanded for the fifth consecutive week, bringing them to 106,000 contracts."
"Even if the geopolitical risks and concerns about an economic cooldown in China suggest that prices will continue to rise in the short term, correction potential is building up which would come into play if the Crimean crisis were to ease," Commerzbank added.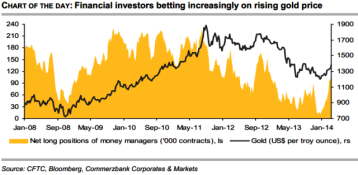 Hedge funds and other money managers raised their bets in gold futures and options for a fifth straight week to the most bullish stance since mid-December 2012, data from the CFTC showed on 14 March.
Holdings in the SPDR Gold Trust, the world's biggest gold-backed exchange-traded fund, rose 3.29 tonnes to 816.59 tonnes on 14 March.
Gold prices have gained some 15% so far this year.