London-listed Africa focused gold miner Randgold Resources hiked its 2016 dividend by over 50% on Monday (6 February) as it posted a rise in pre-tax profits on the back of higher gold prices accompanied by lower extraction costs.
Giving details to the London Stock Exchange, the FTSE 100 miner said its gold production hit a record high of 1.25m ounces last year up from 1.21m ounces the year before. More importantly, the company revealed that its total cash costs fell to $639 per ounce from US$679 per ounce, just as the average gold price rose to US$1,244 per ounce in 2016, compared to US$1,152 per ounce the year before.
It saw Randgold Resources net a 54% rise in pre-tax profit to $402.6m (£322.9m), with chief executive Mark Bristow announcing a 52% rise in last year's dividend to $1 per share.
"We have increased our presence in our target areas through a number of early-stage joint ventures. The board has now given the go-ahead for the Gounkoto super pit [Western Mali] and the technical and financial study on the Massawa-Sofia project [in Senegal] has demonstrated that this has the potential to meet our investment criteria.
"In the meantime, our exploration programmes have continued to add reserves at Loulo-Gounkoto and Sofia and to expand our portfolio in Ivory Coast."
Furthermore, Randgold Resources also increased its cash pile to over $516.3m, surpassing its target of $500m, with no outstanding debt.
Nicholas Hyett, equity analyst at Hargreaves Lansdown, said the massive dividend hike is at the heart of what makes Randgold attractive to investors.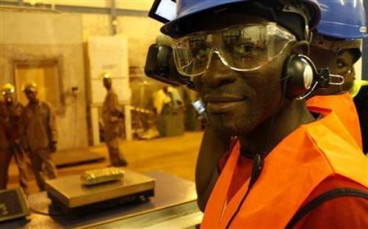 "Unlike most gold investments, it pays investors to wait – albeit not very much. The group has once again demonstrated its ability to keep a firm grip on costs, even as production increases, and is taking steps to refresh the portfolio.
"While the group's high-quality, low-cost mines aim to be profitable at $1,000 dollars an ounce, a price we haven't seen since the financial crisis, it remains a play on the gold price, and that brings risks."
At 11:39am GMT, Randgold Resources shares were up 4.74% or 319.39 at $7,179.39 an ounce. Concurrently, Comex gold futures contract for April delivery was up 0.55% or $6.70 to $1,227.50 an ounce.